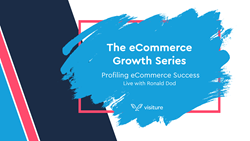 ATLANTA (PRWEB) September 27, 2019
Atlanta- and Charleston-based eCommerce agency Visiture is excited to launch their new video series and podcast, "The eCommerce Growth Series." After eight years of working with leading retailers in the eCommerce space, CMO and Cofounder of Visiture, Ronald Dod, decided to impart this knowledge to the public.
Dod realized the best way to do so was to go straight to the source and ask the executives and professionals themselves what made them successful. For this series, he sits down with leading eCommerce companies who have found success in the digital sphere and have achieved exponential growth.
"After learning so much from our clients and partners over the years, I wanted some way to distribute that knowledge to others," says Dod. "My goal with this series is to showcase leading eCommerce retailers and what they did to gain success."
The first episode features Kelley Thornton, cofounder of Tiege Hanley. Three years ago, very few people gave any thought to men's skin care. That was until Tiege Hanley came along and disrupted the industry introducing their subscription skin care regimen. Today, they are the leader in men's skin care.
Thornton shares his insight with Visiture to discuss the processes that have worked for them to achieve this astronomical growth in just three short years since they started.
About Visiture
Visiture is a full-service digital agency focused on helping eCommerce merchants acquire more customers through search engine optimization, pay per click management, conversion rate optimization, website development and user experience design services. We help pave the way for online merchants to achieve higher returns from their online marketing channels and outpace the competition in a dynamic, digital world.