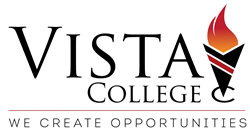 Richardson, TX (PRWEB) December 08, 2018
Vista College announces it is welcoming students from recently closed Brightwood and Virginia Colleges. Vista College staff are standing by to support these displaced students' transition to Vista College. All opportunities for recognizing prior earned credits, and scholarships to provide financial relief, will be considered.
Vista College has been helping students advance their careers for over 30 years. Students have a wide variety of Diploma, Associate and Bachelor Degrees to choose from. Vista College offers programs such as Medical Assisting, Dental Assistant, Electrical Tech and Information Technology in addition to many other programs.
Vista College not only offers a wide variety of career training programs in Texas, New Mexico, and Arkansas, but it also offers online programs. Each career program is staffed with industry leaders and professionals, ensuring students an affordable, quality education that will help them pursue successful careers in their chosen fields. Financial aid is available for those that qualify. Graduates benefit from Vista's career services assistance, which includes resume preparation and interview coaching.
"Every day we encounter students who come to us looking to change their lives," added CEO, Jim Tolbert. "They are ready to work hard to begin a new rewarding career, and they need the flexibility our programs can provide. Vista College is here to help these students affected during this uncertain time. We have been here and will continue to be here for you."
For more information on Vista College, go to http://www.vistacollege.edu.
About Vista College
Vista College is a network of private, post-secondary career colleges offering a variety of training programs including healthcare, business, cosmetology, legal, technology and trades. Vista College has on-ground campus locations in Texas (Beaumont, College Station, El Paso, Killeen, Longview and Lubbock), Fort Smith, Arkansas, and Computer Career Center, a division of Vista College, in Las Cruces, New Mexico. These campuses are accredited by the Commission of the Council on Occupational Education, 7840 Roswell Road, Building 300, Suite 325, Atlanta, GA 30350. Call (770) 396-3839.
Vista College also has a separate online campus accredited by the Accrediting Commission of Career Schools and Colleges (ACCSC). Consumer information may be viewed at http://www.vistacollege.edu