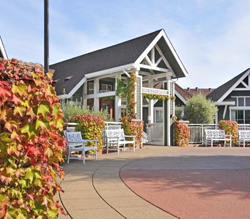 The power of love shines through their hard work and commitment to excellence in all that they do.
BELMONT, Calif. (PRWEB) June 16, 2020
Vista Terrace of Belmont Assisted Living and Skilled Nursing Services (Vista Terrace), a Meridian Senior Living community in Belmont, CA, delivers extraordinary care to their residents with COVID-19 by not only implementing strict infection control measures, but also delivering additional social and emotional support to assist their recovery.
In May 2020, the community was subjected to state mandated testing. That round of tests revealed several positive test results for COVID-19 among the residents. The community met the news with renewed resolve, bolstered by the actions of one individual: Meridian Senior Living's Regional Director of Clinical Services, Christina Harris. She spearheaded a mission to provide above and beyond care to the affected residents at Vista Terrace. While based about six hours away in Orange County, Christina moved into the community and dedicated her focus on personally providing care to these residents around the clock.
Receiving news of a positive test result, a Vista Terrace resident in her mid-90s was quarantined in the community to mitigate the spread. While in isolation, she gained the additional burden of grief as she learned that her spouse, while he was in the hospital, had passed away. When Christina learned that this resident was alone and mourning, she gave her a much-needed hug and held her hand for hours, in full PPE. That was the beginning of a series of the Vista Terrace team delivering old fashioned loving care including chicken soup and holding their resident's hands, with double gloves.
As the resident's symptoms deteriorated, the Vista Terrace staff made the decision to send her the hospital; however, the decision was made to decline the hospital's treatment and return the resident back to Vista Terrace. While the resident required extra care, Christina knew at that point that her goal was to keep her comfortable. Christina rolled up her sleeves and stayed by her side to take care of her between naps. Christina set her alarm every two hours to feed the resident broth to mitigate dehydration and congestion in the lungs. Amazingly, after consistently receiving this care for three days, the resident was considered symptom free and even tried to walk to her mailbox.
"I am so proud of our extraordinary "miracle" team and their dedication to our mission of enriching the life of every person we serve," states Tommy Wood, Vice President of Operations of Meridian Senior Living. "The power of love shines through their hard work and commitment to excellence in all that they do."
Vista Terrace staff members followed Christina's model by delivering personalized care to their residents with COVID-19. They provided emotional support by holding residents' hands and improved their caloric intake while providing comfort by baking them fresh cookies. By providing loving care from the heart along with taking strict control measures, all infected residents have recovered and are now symptom free.
Where quarantine is required for mitigating the spread of infectious disease, the consequences of isolation and lack of social interaction may result in negative physical, mental and cognitive health effects, particularly in seniors according to the American Psychological Association. In addition to implementing strict infection control measures and adhering to government health authorities' guidelines, Meridian Senior Living community staff members work diligently and creatively to ensure that their residents are engaged daily by providing activities that meet medical, mental, physical, nutritional and psychosocial needs.
Providing compassionate care and social interaction to foster health benefits is based on research. According to studies conducted by The National Institute on Aging, there is a correlation between social interaction health and wellbeing among seniors. Furthermore, these emotional bonds can lead to healthier lifestyles including being active, eating healthy foods, and ceasing poor health habits such as smoking.
Vista Terrace is open and admitting new residents for move-ins. In these times of isolation, it had been particularly difficult for older adults who may not have options to go out to obtain necessary items or socialize as society reopens. Vista Terrace provides dedicated staff that are trained and certified to assist in daily support functions such as bathing, dressing, medication management and especially the ability to immediately respond to crisis situations. Furthermore, Vista Terrace works diligently and creatively to ensure that their residents are engaged every day by providing activities such as hallway exercises, gardening, crafts, and creating music. To learn more about Vista Terrace of Belmont please call (650) 295-0735, visit the community website: vistaterraceofbelmont.com, or visit the community Facebook page: https://msl.life/belmontfb.
About Vista Terrace of Belmont:
Centrally located in the Peninsula with breathtaking views of the San Francisco Bay, the East Bay hills, the Redwood Shores, and the America's Cup boat, Vista Terrace of Belmont offers both assisted living and skilled nursing services. This 101-bed community offers spacious residences including studios, one- bedroom, and two-bedroom apartments. Located at 900 Sixth Avenue in Belmont, CA, Vista Terrace of Belmont is convenient to Cal Train station, El Camino Real, HWY 101, shopping and dining in Downtown Belmont, and HWY 280. Amenities include chef-prepared fresh entrees and desserts served daily, a library, an activity room, and an array of common areas.
About Meridian Senior Living:
Meridian Senior Living, a privately held company based in Bethesda, Maryland, owns and operates seniors housing communities across the country and provides operational consulting to 24 communities in China. With more than 70 communities in 21 states and more in development, Meridian is one of the largest seniors housing operators in the U.S. The company prides itself on providing the highest quality care, exceptional lifestyle programming and a distinctive dining experience for its residents. For more information on Meridian Senior Living, visit meridiansenior.com.