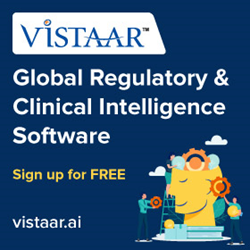 Access Regulatory Guidance Documents with One Click
PRINCETON, N.J. (PRWEB) September 17, 2019
VISTAAR released ADVISORY Playbooks to help small and mid-level companies who need advisory either as a primary strategy or as re-assurance / 2nd opinion to their internal strategies they formed for developing or launching new products or expanding to new countries.
Lot of users when going into new markets, or planning to change their product elements and want to know the impact, introducing new product or to support their R&D teams, have ideas and thoughts but may not have a question clearly framed. VISTAAR while driving initial probing questions, you can give your needs or plans and VISTAAR than by leveraging its AI engine provides you a Regulatory strategy on what is needed, options, country requirements, forms/checklists, what other companies are doing in that scenario, what other products have those situations or parameters and more.
When someone cannot afford a senior consultant or need an initial pathway, these Playbooks can drive that process by significantly reducing the time and cost required compared to analyzing all the documents and information manually.
Try for a month FREE to test it for yourself. VISTAAR's AI enabled Intelligence helps navigate today's complex product development and regulatory landscape Better, Faster and Cheaper than any other regulatory and clinical intelligence platform. Visit http://www.vistaar.ai