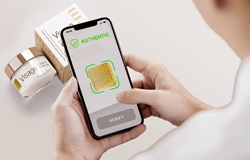 This would allow consumers to do things like authenticate products they want to buy, or have bought, or recognise products or brands in images and video, and show them where they can be purchased.
NEW YORK and DUBLIN (PRWEB) March 09, 2021
Visual-AI leader, VISUA, today announces a new era in visual data analysis with the launch of fully untethered on-device Visual-AI. Enabling sophisticated visual artificial intelligence to run within any recent generation hand-held device.
VISUA launched in 2016 (under the name LogoGrab, before rebranding to VISUA in 2020) with its world-leading Logo Detection Visual-AI technology. Since then it has added a host of new technologies, including Visual Search, Text Detection, Object & Scene Detection, and Custom Object Detection. These technologies, when combined, can enable powerful visual analysis for applications as varied as counterfeit detection, product authentication, phishing detection, brand monitoring, ad monitoring, digital piracy monitoring and more, all through a simple to use API that communicated with VISUA's cloud-based servers or to an on-premise server for local processing.
However, the launch of this on-device implementation enables any number of diverse applications where processing must occur directly on the device because a data connection to a main server cannot be guaranteed, or is not desired. An example is product authentication in the field, where logistics or customs agents could point a smartphone at a product to authenticate it as genuine in seconds.
The broad capabilities of VISUA's Visual-AI stack translates directly to the broad possibilities when implemented in a simple device, so the future is limitless as processing power and the capabilities of devices increase year after year.
The first commercial use for VISUA's On-Device solution is currently in development with a world-leading brand protection company. A detailed announcement on the specifics of the implementation and use will follow in the coming weeks.
Commenting on this release, Luca Boschin, CEO and Co-Founder of VISUA said, "There are numerous on-device AI implementations and obviously there are also a number of very specific on-device Visual-AI implementations, such as those used in self-driving cars, but we are delighted to launch our Visual-AI solution that meets broad application demands and runs on virtually any hand-held device.
Luca continues, "This takes Visual-AI into places where it simply couldn't go before. For example, from today, a customs or police official can authenticate a product in the back of a truck in a remote location, on a standard low-cost hand-held device, in seconds, and without any expert knowledge of the product in question. We're extremely excited about the possibilities for future uses and applications."
Alessandro Prest, CTO and Co-Founder of VISUA adds, "The possibilities for On-Device Visual-AI are extremely broad and we're really excited about where this can take VISUA and the use of Visual-AI. Although today unique apps need to be developed for each use case, I see a future where we might even work with Apple and Google to integrate these capabilities directly into the camera app on smartphones, just as QR code scanning now happens natively. This would allow consumers to use Visual-AI more easily to do things like authenticate products they want to buy, or have bought, or recognise products or brands in images and video, and show them where they can be purchased, all without having to download a third-party app."
-- ENDS --
Website | Twitter | LinkedIn | YouTube
About VISUA
VISUA boasts best-in-class Visual-AI that powers the world's leading brand protection, authentication and monitoring platforms. VISUA delivers technologies such as logo/mark detection, text detection, object & scene detection and visual search, that are used by world leading companies for applications as varied as holographic authentication and counterfeit product detection, to sports sponsorship monitoring, brand monitoring, and phishing detection. Its Visual-AI technology is proven to deliver the highest precision with instant learning, at unlimited scale, and is adaptable for any use case. VISUA believes in People-First AI, they see a world where Visual-AI will lift humanity out of the mundane, empowering a society that focuses more on creativity and collaboration and less on binary tasks, and empowering services and solutions that humans alone simply can't deliver.
For media inquiries please contact:
Franco De Bonis
Marketing Director
VISUA
press@visua.com