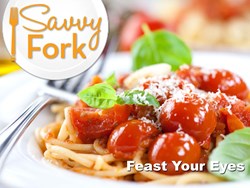 This new site is such a visual feast!
New York, NY (PRWEB) September 10, 2013
June Media launches a new visual recipe site called SavvyFork, which aims to provide a unique food-finding experience for epicureans worldwide. "This is an exciting launch, because it's unlike any of our other sites and SavvyFork is such a visual feast," says Dennis O'Connell, CEO of June Media.
SavvyFork visitors will find their recipes through "visual recipe cards" on the homepage which contain inspiring pictures of the recipes. Food partner logos appear beneath each of the recipes that they submitted, along with share buttons that reinforce the community aspects of the site. SavvyFork members will be able to rate, save, and socially share recipes.
To celebrate the launch, SavvyFork is giving away chance to win a Le Creuset French oven. Those interested in signing up and entering can do so by going to http://www.savvyfork.com/giveaway.
The Feed is the official newsletter for SavvyFork, and highlights new and top-rated recipes along with up and coming blog partners and popular brands. The modern aesthetic of SavvyFork is carried over to the site's newsletter, which also features a beautiful visual layout.
Launch blog partners include: Garnish With Lemon, Mama Harris' Kitchen, The Grant Life, Without A Measuring Cup, Being Cheap Is Easy, and Home Skillet. Launch brand partners include Dannon Oikos® and Lifetime Brands. A full partner list can be viewed by going to http://www.savvyfork.com/index.php/partner-list.
SavvyFork joins existing June Media properties such as the flagship recipe and cooking site Recipe4Living.com, health and beauty counterpart FitandFabLiving.com, lifestyle blogs ChewOnThatBlog.com and RunningWithMascara.com and working mom site WorkItMom.com, which was listed in Forbes' list of "Top 100 Websites For Women 2012" and "Top 100 Websites For Women 2013." June Media's wide range of women's lifestyle topics is also represented in email newsletter products branded under these properties. Newsletters such as Daily Recipes from Recipe4Living are sent to a subscriber base of millions of engaged consumers.
About June Media
June Media, Inc. is a privately held company with offices in both New York and Chicago. June Media is a leading content provider for women with a mission to inspire, entertain and empower women of all ages through informative editorial content, targeted newsletters and an engaged community.
For more information, please visit http://www.junemedia.com.
For media inquiries, please contact:
Dan Kamys
SavvyFork Editor
(224) 374-1129
Dan(at)SavvyFork(dot)com
For advertising and sales inquiries, please contact:
Charlie Brugnolotti
Director of Sales
(646) 873-4988
Sales(at)JuneMedia(dot)com