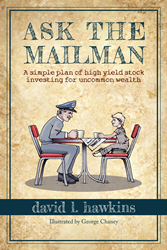 "Bold investment strategies that aren't for the risk-averse." - Kirkus
AKRON, Ohio (PRWEB) October 28, 2019
No matter how old or experienced in investing one may be, author and interior design entrepreneur David L. Hawkins' entertaining and straightforward financial book, "Ask the Mailman: A Simple Plan of High Yield Stock Investing for Uncommon Wealth," is sure to identify with readers seeking to increase their savings in the most efficient manner possible.
The book highlights lessons Hawkins learned while watching his father manage money as well as the ones he discovered while building wealth himself. He used these experiences to formulate his revolutionary method of using compound interest coupled with standard high-yield stocks to achieve unprecedented gains. Over time and repetition, this method could create an investment 'snowball' and eliminate the need for an IRA, providing extra cash for the investor to use for other expenses along the way. Hawkins asserts this method can yield unbelievable results, even for those who have had an unfavorable past with stocks before.
Not only does Hawkins' book, "Ask the Mailman," attract readers with its intriguing yet educational concepts, it also features creative and humorous illustrations drawn by George Chaney, adding a visually engaging effect to an easy-to-follow guide of wealth management tools and tips.
Hawkins also dedicates an entire chapter to the importance of tithing and how giving back can help investors experience their financial wealth more positively. "Whether you tithe, donate to charity or help a friend in need, it's important to give back and share your gift to those less fortunate," Hawkins said. "That's why I wanted to share God's blessing to me, which was the discovery of this formula for others to experience wealth and prosperity."
Kirkus Reviews praises "Ask the Mailman": "Throughout, the author's writing is lucid, and the excellent illustrations enhance the content. Bold investment strategies that aren't for the risk-averse."
"Ask the Mailman: A Simple Plan of High Yield Stock Investing for Uncommon Wealth"
By David L. Hawkins
ISBN: 9781973660903 (softcover)
Available through Amazon, Barnes & Noble, WestBow Press and AskTheMailman.com
About the author
David L. Hawkins, ASID is an award-winning interior designer and the owner of an interior design studio called David L. Hawkins Design Management Inc., located in Akron, Ohio, where he heads a talented team of interior designers. He graduated with a Bachelor of Arts, Interior Design from Kent State University with disciplines in architecture, industrial technology, art and business administration. He is an NCIDQ Certified Interior Designer and has received awards for his lighting designs. "Ask the Mailman" is his first book. To learn more, please visit his website at http://www.askthemailman.com.
For Review Copies & Interview Requests Contact:
LAVIDGE – Phoenix
Kalin Thomas
480-648-7540
kthomas(at)lavidge(dot)com