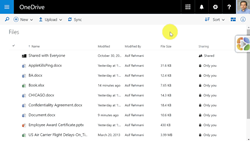 We have legacy in Office 365 training...we asked ourselves 'how do we improve the entire Microsoft Office 365 suite for end users?' Provide moment-of-need training.
Chicago, IL (PRWEB) September 26, 2016
VisualSP recently revealed it would soon be releasing a new in-context training and performance support application – this time for Office 365. The VisualSP Training for Office 365 product delivers a vast library of curated micro-training modules and walkthroughs inside the user interface. An early version was introduced to a select group on September 15, 2016.
"We are no longer focused entirely on Microsoft SharePoint," explained VisualSP CEO and founder Asif Rehmani. "We have legacy in Office 365 training, and we asked ourselves 'how do we improve the entire Microsoft Office 365 suite experience for end users?' The answer? Provide moment-of-need training, so they can learn how to complete their tasks faster. Our mission is to improve the experience for all users of the valuable apps inside Office 365."
Rehmani, a well-known Microsoft MVP and MCT, recently discussed the mindset behind the launch. "Office 365 consists of many useful applications such as Microsoft Outlook, SharePoint, Office Online, Planner, Yammer, OneDrive, Delve, and so much more," he said. "As Microsoft continuously improves its products to meet market demands, we have seen challenges for some companies as they try to keep their users trained on the latest product improvements."
He added, "I'm very excited that our company is close to releasing a new product which meets those challenges head on. We want to be able to help customers get the most out of their Microsoft investments."
The VisualSP Training for Office 365 solution is expected to drive better end-user adoption by delivering on-screen, multimedia training modules in the form of:

Short video tutorials
Annotated screenshots for reference
Quick help tip sheets
Step-by-step walkthroughs
The application is activated by the end user through a help tab that sits to the right of the screen. When clicked, an interactive menu displaying multiple options for most common tasks will appear. "Users will not have to navigate away from their screens to consume targeted learning scopes. This way, they can get the knowledge they need and apply it to their work in the moment of need," said Rehmani.
Attendees who visit booth #464 at the Microsoft Ignite event in Atlanta this week can see a live preview. To be a part of the VisualSP Training for Office 365 upcoming beta version release, register here.
*******
VisualSP® has been a leader in Elearning/performance support integration with SharePoint since 2004. Formerly SharePoint-Videos.com, a developer and distributor of SharePoint training videos, VisualSP introduced its on-demand, inline Help System for SharePoint to assist end users in developing mastery over common SharePoint tasks. The company is led by Microsoft MVP and MCT Asif Rehmani. To learn more, visit http://www.visualsp.com.