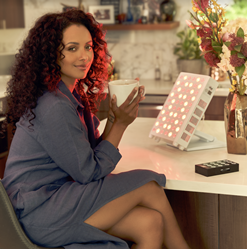 Red light therapy, also known as photobiomodulation (PBM), has been around for nearly 50 years after it was pioneered by NASA scientists.
LOS ANGELES (PRWEB) November 08, 2021
Vital Red Light, a leader in the personal light therapy market, announces a new collection of at-home, professional grade red and near-infrared light therapy devices. With the launch of Vital Red Light, millions of people worldwide will have access to improve their health and well-being, right at-home. This new line from Vital Red Light is the first of many at-home wellness products being developed by the startup company in the health technology & wellness sector.
Red light therapy, also known as photobiomodulation (PBM), has been around for nearly 50 years after it was pioneered by NASA scientists. Since then, red light therapy has been used by the world's leading dermatologists, wellness experts, and professional athletes to provide a wide range of health benefits. With the release of Vital Red Light's at-home red and near-infrared (NIR) light therapy devices, customers can now benefit from a medical-grade experience, in the comfort of their own home.
"NASA scientists, professional athletes, and forward thinking health experts have been using red light therapy for a very long time", says Vital Red Light Founder and CEO Jake Kreuz. "The launch of Vital Red Light gives anybody access to professional-grade red light therapy treatments in the comfort of their own home. With the ongoing pandemic and the new normal of working from home, we want our customers to have access to the most innovative natural health modalities during a time when people need it the most. We are just getting started as we continue to develop products that can further help people feel better, naturally."
Vital Red Light Reference Video:
https://drive.google.com/file/d/1te3ji-nvB4mwlBEPe0sueFwnvtwwy07S/view?usp=sharing
Vital Red Light is already a favorite among Olympic and professional athletes, Hollywood celebrities, trainers, beauty professionals, and wellness clinics around the world. The company continues to sell devices across the world with overwhelmingly positive feedback. Red light therapy has been shown to be a noninvasive, non-toxic, beneficial healing modality.
"Once you integrate Vital Red Light into your daily routine, it is literally life-changing. I use the device in the morning, and the energy received literally substitutes the need for coffee, and then right before bed, which allows my mind and body to immediately relax, for an immediate transition into sleep. The results are remarkable, and our mission is to bring this awareness and technology to consumers worldwide." – Investor, Oliver Trevena
The brand already has many celebrity fans such as Jenna Dewan, Nikki Reed, Brooke Burke, and it's new official ambassador, Kat Graham. https://www.instagram.com/p/CV8SWS5Dqf6/?utm_medium=copy_link
About Red Light Therapy
Red light therapy involves exposing the body to red and near-infrared wavelengths of light. Light at certain wavelengths has been scientifically proven to interact with the body in beneficial ways. Red light therapy, comprising both red and near-infrared wavelengths, is a uniquely healing part of the electromagnetic spectrum and it is one of the most natural ways to charge the body to rejuvenate and repair. This has been demonstrated by peer-reviewed studies, including research at NASA.
How Red Light Therapy Works
Red and near-infrared wavelengths of light from a light therapy device penetrate the skin and work in particular on the cell's mitochondria, which is also known as the cell's main energy producer. In various clinical studies, the cytochrome c-oxidase in the mitochondria absorbs red light, which causes the release of nitric oxide, furthering the production of ATP and reducing oxidative stress. ​​Red light therapy has been shown to produce a wide range of natural health benefits including: reducing inflammation & pain, reducing recovery time and muscle soreness, improving sleep, stimulating hair regrowth, and naturally enhancing collagen levels in the skin.
About Vital Red Light
Vital Red Light is one of the world's most trusted manufacturer of premium red and near infrared light therapy devices. The Company makes powerful, professional-grade light therapy treatments affordable and accessible for everyone to use. Today, Vital Red Light therapy devices are being used by thousands of individuals across the world to improve their health in the comfort of their own home. Professional athletes, medical professionals (dermatologist, chiropractors, sports medicine, aestheticians, and world-class gyms & health clinics all trust Vital Red Light as their source for red light therapy devices. Vital Red Light is pioneering the next wave of innovative and empowering health technology.
Visit https://vitalredlight.com/pages/why-use-red-light-therapy/ for more information on Red Light Therapy and to shop and explore the Vital Red Light device collection.
Follow on social media @VitalRedLight for up to date information, tips and learnings.