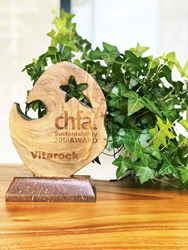 "We were so happy to be recognized by CHFA and our partners in our efforts to create a more sustainable way of living for the future," says Alicja Wojewnik, Founder & CEO
TORONTO (PRWEB) October 04, 2018
Online health and wellness store, Vitarock, was awarded CHFA's 2018 Sustainability Award this past weekend. Each year, CHFA recognizes organizations that have developed a culture of sustainability internally and that continue to work towards a sustainable future through community, innovation and transparency.
Vendors reached out in support of Vitarock's nomination, adding that the group has demonstrated accountability for their mission to be ethical, and provided a one-stop shop for health products. They were also thrilled to learn that every member of Vitarock participates in ethical training and volunteer work, and pledges to live a sustainable lifestyle as part of employee engagement.
"We were so happy to be recognized by CHFA and our partners in our efforts to create a more sustainable way of living for the future," says Alicja Wojewnik, founder and CEO of Vitarock. "If we motivate and educate our employees on making sustainable decisions throughout our organization, they will be our main advocates for creating social and environmental change in our local and global communities. We need to set that example."
The only Certified B Corporation of its kind, Vitarock is a Canadian-based online wellness store for socially-conscious shoppers that offers thousands of health food products, natural supplements, beauty, household items, baby care and personal care products. Each product is pre-screened by a team of certified quality assurance and regulatory specialists to ensure every item meets Vitarock's four pillars: pure, green, safe and fair.
About Vitarock
Vitarock is an online store for ethically-minded people who want to make the world a better place while achieving personal wellness and joy in their lives. 2% of every sale on Vitarock will go towards the non-profit organization, Vitamin Angels, in their fight against childhood malnutrition in disadvantaged communities around the globe.