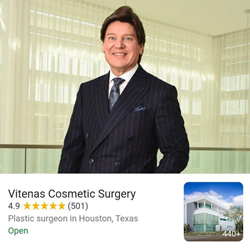 HOUSTON (PRWEB) January 30, 2020
Paul Vitenas, MD, FACS and the staff at Vitenas Cosmetic Surgery are proud to report the office has topped over 500 Google reviews. The dedication to patient safety and satisfaction can be seen in the outpouring of positive online testimonials. While hitting 500 Google reviews has been a goal for the practice for years, generating this large amount of patient participation is unusual for a plastic surgery practice.
Online reviews have become increasingly important over the last ten years. Reviews on Google, Yelp, Manta, RealSelf and Facebook are now a key source of consumer information. Star ratings and reviews may be the only research a new consumer will do when picking their destination. As the modern "word of mouth" recommendation, over 90% of consumers are more likely to make a purchase after reading a positive online testimonial.
Google reviews can serve multiple purposes for the plastic surgery practice. A high star rating immediately tells the potential patient that the provider has achieved good results in the past, prompting a closer look. Google reviews will also give a practice credibility in its field. However, it is the number of reviews that demonstrates just how many patients have experienced a pleasing experience at the office. The higher the number of Google reviews, the more people that have visited the office for treatment.
Houston is one of the fastest-growing cities in the United States. With thousands of people coming to the area each year, Google reviews are a key method for reaching potential patients. Vitenas Cosmetic Surgery's 500 reviews will help spread the word about the award-winning practice.
"Thank you to all of our patients for helping us achieve a real milestone…putting us over the top in achieving one of our goals we had for the last five years," Dr. Vitenas explains, "(We appreciate) patients taking the time to share with the rest of the world their experience with us."
Exceeding 500 patient testimonials requires a talented, experienced surgeon with an artistic eye. It also requires a dedicated team of nurses, aestheticians, surgical techs, and patient coordinators. Everyone does their part to deliver an exceptional experience for every person who walks through the doors. No matter how large or small a request, the staff understands how important every touchpoint is during each patients' surgical journey. "We do our best to treat all of our patients like they are our family… (we do with) them what we would do to one of our family members."
ABOUT HOUSTON'S VITENAS COSMETIC SURGERY
Dr. Vitenas is a board-certified plastic surgeon and the founder of Vitenas Cosmetic Surgery. Over the last 30 years, his practice has grown from a small office south of Houston to a large, custom-built facility in the exclusive River Oaks neighborhood. The state-of-the-art building, on the corner of Richmond and Drexel, includes Dr. Vitenas' office and treatment rooms, as well as his personal operating rooms and a private recovery suite. A discrete entrance ensures patient confidentiality. Free, off the street parking makes Vitenas Cosmetic Surgery easy and convenient. Sitting directly above Mirror Mirror Beauty Boutique, patients can opt for both surgical and noninvasive treatments in a single location.
If you would like to find out more about Dr. Vitenas' surgical and noninvasive treatments, go to Vitenas Cosmetic Surgery or call the office at 281.484.0088. Our office invites you to take a minute to peruse Dr. Vitenas' more than 500 Google reviews or the additional online patient testimonials.