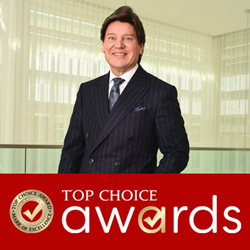 HOUSTON (PRWEB) January 21, 2020
Dr. Vitenas is proud to share the exciting news: Vitenas Cosmetic Surgery has been named the Top Choice Plastic Surgery Clinic of 2020 in Houston, Texas. This is a coveted position, with hundreds of doctors across the state of Texas hoping their patients and peers will think highly enough of their practice to turn in a vote. Dr. Vitenas won the same award in 2018, demonstrating the consistency in care Vitenas Cosmetic Surgery continues to offer.
The Top Choice Awards is a unique recognition that showcases the best physicians in each state, according to their patients. The list encompasses many medical specialties, including oncology, cardiology, gastroenterology and plastic surgery. Every year hundreds of physicians hope to be nominated yet only the cream-of-the-crop can have the bragging rights of a 2020 Top Choice Award-winning practice. Among the many reasons a patient will vote on their favorite doctor may include:

Level of care
Safety
Bedside manner
Respect of their peers
Satisfying results
Helpful and kind staff
Clean, updated office
Range of offerings
Nominations for the Top Choice Awards are open all year. Once the nominees go through a rigorous background check, they turn to the public to cast their votes. For six full weeks, everyone has a chance to vote for their most loved medical providers. The winners are then tallied to determine the select group of doctors that patients feel they can turn to for medical services and would easily recommend. Top Choice Winners are then announced in mid-January.
As with all of the winners of the 2020 Top Choice Award, Dr. Vitenas goes way beyond the basics of care. With more than 30 years of experience in Houston, Dr. Vitenas believes that the keys to his success include his top-notch medical facility, private surgical suites, and his continuous training to remain up-to-date on the hottest changes in aesthetic medicine.
Dr. Vitenas also points out that no matter how amazing the surgeon, they must be "someone who has completely dedicated (his) career to doing cosmetic surgery,". He encourages potential patients to do their homework, look at before/after photographs and make the most out of them in-person consultation. He explains, "Being able to meet and talk with the surgeon and have them understand what it is that you are trying to achieve, then displays to you how he/she is going to deliver what it is you are trying to achieve is critically important today,". The field is full of mediocre doctors but very few are experienced, board-certified cosmetic surgeons.
ABOUT VITENAS COSMETIC SURGERY
Dr. Paul Vitenas is a board-certified plastic surgeon with over 3 decades of plastic and cosmetic surgery experience. A graduate of Tulane University Medical School, Dr. Vitenas completed an elite Orthognathic Surgery Fellowship in the Department of Oral and Maxillofacial Surgery at the Louisiana State Medical Center, and a highly-selective Craniofacial and Cosmetic Surgery Fellowship at the Hospital Necker and Clinic Belvedere in Paris, France. In 1991, Dr. Vitenas began his private practice in Houston, opening Vitenas Cosmetic Surgery.
Located on the corner of Richmond Avenue and Drexel Street in River Oaks, Vitenas Cosmetic Surgery's state-of-the-art building is easily reached from all areas of the city, including Friendswood, the Woodlands, Katy, and the Heights. The practice brings patients a full range of innovative surgical procedures, including breast augmentation, abdominoplasty and liposuction. All procedures are performed in Dr. Vitenas' private surgical suites at the Houston Surgery Center, located in the Vitenas Cosmetic Surgery building.
If you would like to find out more about Dr. Vitenas, call Vitenas Cosmetic Surgery at 281.484.0088 or fill out our online Contact Us form. The complete list of 2020 Top Choice Award winners is available on the Top Choice website.