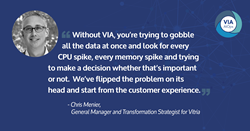 MENLO PARK, Calif. (PRWEB) November 03, 2020
In an audio interviewed for CTOs involved in digital transformation, Chris Menier, GM VIA AIOps and Joel Beasley, founder ModernCTO discuss how to improve the customer experience using the VIA AIOps application. "Customer experience is paramount. From onboarding to service delivery and payment, the goal is to enhance the customer experience to reduce churn, to create loyalty through service enhancement and to minimize service degradation and eliminate disruption," says Menier.
CIO, top tier CSP reports:
"With the VIA AIOps application we have been able to implement a true experience-first, service-oriented approach to service operations. The results have been reduced response and restoration times, reduced customer support calls and a quantifiable increase in customer satisfaction. Network operations was able to reduce incidents to less than five incidents per day per service."
Why Select VIA?
Why would top tier service providers, with hundreds of monitoring tools, thousands of engineers and data scientists, select VIA AIOPs? Because VIA AIOps solves an unsolved problem and delivers an ROI previously not achieved. It delivers the right eyes and prescriptions to the right problem at the right time.
ABOUT VIA AIOPS
VIA AIOps easily integrates with monitoring systems located in silos across the service hierarchy. Enabled by explainable AI, VIA prescribes remedial actions to the designated system of action and predicts problems before they impact customers. VIA AIOps can be deployed from the cloud, on premises or in hybrid operating environments.
ABOUT MODERNCTO
ModernCTO is the place where CTOs hang out. Weekly podcasts with Fortune 500 CTOs in Aerospace, Artificial Intelligence, and Robotics.
To listen to full audio interview with Chris Menier and Joel Beasley click here.