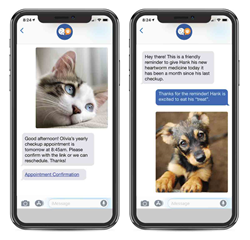 "The VitusVet platform met all of our requirements."
BALTIMORE (PRWEB) August 07, 2019
VitusVet, a complete veterinary practice communication platform developed by a veterinarian to strengthen relationships between veterinarians and pet owners, today announced its partnership with leading animal hospital practice provider, Pet Partners. More than 90 animal hospitals in the Pet Partners network will use VitusVet's innovative, intuitive technology to streamline administration, drive new revenue and provide excellent customer service to pet owners.
"At VitusVet, we understand that running a great veterinary business delivers a better life for pets," said Mark Olcott, DVM, co-founder and CEO of VitusVet. "Pet Partners empowers its veterinary hospitals with services and technology to help remove barriers to success. We're proud to work together to deliver the most efficient communication solution for the Pet Partners network."
"What stands out about VitusVet is they are a true partner. They've worked with our team to meet the unique needs of our community of hospitals," said Steve Ireland, VP Marketing and Communications for Pet Partners. "The VitusVet platform met all our requirements: the right functionality, features that match the needs of a corporate group, and an easy implementation process all supported by a responsive team."
VitusVet joins Pet Partners' suite of business management support services that are used to provide a better pet, client, and employee experience. The VitusVet platform offers visibility into patient compliance, and more robust client experience through digital communication tools including 2-way texting, intelligent reminders, and confirmations, refill and appointment requests and mobile medical record sharing.
About VitusVet
VitusVet strengthens the connection between pet care providers and pet owners to help practices run more efficiently and ensure the health and happiness of pets. Founded in 2013, VitusVet's complete veterinary practice communication platform streamlines appointment requests, enables text and picture messaging with pet owners, digital medical record sharing, and monitors practice performance with an easy-to-use dashboard. Learn more about VitusVet at http://www.vitusvet.com.
About Pet Partners
Pet Partners is a community of general practice, emergency, and specialty hospitals working together to advance medical care through the sharing of medical knowledge and operational resources. Visit http://www.petpartnersusa.com to learn more about Pet Partners.