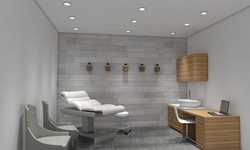 Viva MedSuites has created a new and better medical office solution for medical and wellness professionals in the Phoenix and Scottsdale areas.
SCOTTSDALE (PRWEB) June 01, 2017
Viva MedSuites announced today that it is opening a new type of medical office space in Scottsdale in June, 2017. Viva MedSuites has taken the popular co-working concept for regular office space and applied it to medical office space. Now medical and wellness practitioners who only need a small amount of space, can have access to professional medical office space in increments as small as a half-day per week. This new medical space hoteling or co-working concept is designed from the start to meet the needs of many of today's medical practitioners, and it is the first of its kind in the state of Arizona.
The new co-working medical office space is located in the Mountain View Medical Plaza at 9700 N. 91st St., which is near Shea and AZ 101, right in the heart of the popular Scottsdale/Shea healthcare corridor and just south of Scottsdale Honor Hospital, which makes it a desirable location for medical practices of all types.
About Viva MedSuites: "The commercial real estate industry is geared towards providing larger medical office space to medical users who are willing to sign 5 to 10 year leases on 2,000 to 10,000 SF. It simply is not structured to provide good space solutions for medical users that only need a small amount of space." said John Groberg, owner of Viva MedSuites. "We are here to change that. What the executive suite industry has done for the small office user and what the Salon Suite industry has done for the small salon user, we are now doing for healthcare professionals, so they can now access professional medical space on a flexible, scalable and affordable basis."
Viva MedSuites' Scottsdale office has 10 fully furnished exam or consulting rooms that can be accessed on an affordable daily or half-daily rate basis. Practitioners can sign up for use of just one exam room or for multiple exam rooms at a time. They can easily scale up or down with more days or more exam rooms as their needs change.
Amenities: Viva MedSuites space includes a professional patient waiting room with a touch-screen check-in system that automatically texts doctors when patients have checked in. The waiting room and the exam and consultation rooms are all fully furnished and decorated for a professional medical office environment. Every room has a sink and cabinetry built in and then there are a variety of ways the various rooms are furnished in terms of desks, chairs, couches, exam tables, or other types of equipment to accommodate the needs of a wide variety of medical and wellness uses.
In addition to private exam or consulting rooms, practitioners will have shared use of typical medical office equipment such as an autoclave, centrifuge, vitals taking scale, blood pressure/pulse oximeter machines, sharps disposal, lab services, blood taking station and IV transfusion chairs. There is also a break room, high-speed WiFi internet, printing/copying machines, private and secure locker storage and cold storage. For those doctors who like to have an assistant with them, they can house their assistants in a separate assistants room within the office. Daily rates include all utilities, CAMs, taxes and janitorial which are generally not included in most commercial medical space rentals.
No Long-Term Contracts: Long-term leases are not required. Doctors can terminate at any time with just 12 weeks' notice. "Doctors don't have to be locked into long-term leases that don't serve them and just drain their resources. They now have the freedom to cancel or adjust their space commitment at any time."
Wide Variety of Practices: Viva MedSuites has sparked the interest of medical practitioners around the Valley. "We've gotten a lot of interest from a wide range of medical practitioners, including: neurologists, orthopedic surgeons, internal medicine specialists, dermatologists, podiatrists, naturopaths, physical therapists, psychiatrists, psychologists, geneticists, stem cell therapies, acupuncturists, chiropractors, pain management specialists, and more. MedSpa treatments like Botox and other therapies can also be offered in the space.
"An additional benefit, besides the cost savings, of medical office co-working is that practitioners can network so they can grow their business" says Mr. Groberg. The Scottsdale office is one of several planned for the region. Once the Scottsdale location fills up, additional locations will be opened to meet the office needs of medical practitioners in other parts of the Phoenix valley.