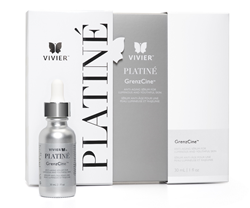 Now Vivier™ Pharma is introducing GrenzCine™ Sērum, a new discovery to the world that treats all layers of the skin leading to thicker, more luminous skin
Vaudreuil-Dorion, Quebec (PRWEB) May 05, 2017
It's a fact: our hair, muscles, eye lashes and lips thin with age – and so does our skin!
"The top layer of the skin known as the epidermis not only thins out over time but leads to dull skin that becomes wrinkled. Now Vivier™ Pharma is introducing GrenzCine™ Sērum, a new discovery to the world that treats all layers of the skin leading to thicker, more luminous skin," says Jess Vivier, President & CEO of Vivier™ Pharma.
Vivier™, a pharmaceutical skin care company renowned for its topical Vitamin C sērums, has launched a new and revolutionary molecule proven to increase skin's thickness and firmness for more youthful looking skin†. The Vivier™ GrenzCine™ Sērum** developed in collaboration with board certified Plastic Surgeon Dr. Kenneth Dolynchuk is backed by 30 years of research and 5 patents.
This patented skin care solution combines Vivier™'s exclusive pharmaceutical grade Vitamin C (L-Ascorbic Acid USP) and 1,4 Diaminobutane or Polyamine-DAB™, a polyamine, that helps thicken the Grenz Zone (Epidermal-Dermal Junction) and Epidermis†.
Clinical studies show†:

The Epidermal-Dermal Junction and Epidermis is 2 X thicker using Polyamine-DAB™
The Epidermis receives 4.5 times more Vitamin C than other Vitamin C serums
The Dermis receives 3 times more Vitamin C than other Vitamin C serums
Vivier™ GrenzCine™ Sērum** is available for MSRP $305.00 (30 mL) exclusively through authorized physicians and skin care professionals. Visit vivierpharma.com for more information about GrenzCine™ Sērum** and where to buy.
*Patented **Patent Pending †Data on File
ABOUT VIVIER™ PHARMA
Vivier™ is an innovative pharmaceutical company committed to providing superior skincare solutions that change people's lives by delivering results.
This exceptional mission was achieved through years of dedicated research and development into innovative skin care technology designed to give the most visible anti-aging effects. Their passion to enhance beauty from the inside and out is what drives them to continuously exceed expectations and to be the best in the industry.
Vivier™ is proud to be one of the fastest growing pharmaceutical skin care companies and trusted by Dermatologists, Plastic Surgeons and Aesthetic Physicians worldwide.
Vivier™ is changing the face of the professional skin care industry and excited to welcome you to join the beautiful skin revolution.
For more information visit vivierpharma.com
Photos, samples, interviews or additional information
David Tremblay 514-524-1471 david(at)natapr(dot)com