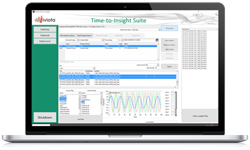 Viviota's new Engineering Events capability in the TTI platform gives engineers easy ways to quickly sort, filter and search these massive data sets down to the key events they need for analysis.
AUSTIN, Texas (PRWEB) May 21, 2019
Viviota, Inc., the leader in software data management solutions that accelerate engineering analysis and innovation, today announced that Viviota Time-to-Insight™ Software Suite (TTI) will preview new Engineering Events data management capabilities at NIWeek. This new capability simplifies existing design, prototyping, and test engineers' event analysis processes making it easier for engineers to manage, retrieve and compare like Engineering Events across tests and analyses reducing the time to bring products to market, and lowering the chance of issues escaping into the field. Ultimately, the ability to efficiently manage event data impacts the company's bottomline. Availability for engineering event management will be coming later this year.
"In the automotive and transportation world, engineers are grappling with large amounts of sensor data to find the proverbial needle in the sensor data haystack. This typically involves correlating multiple data sensor events like temperature or vibration and GPS coordinates," said Eric Newman, Chief Executive Officer at Viviota. "Viviota's new Engineering Events capability in the TTI platform gives engineers easy ways to quickly sort, filter and search these massive data sets down to the key events they need for analysis."
Today, engineering organizations are challenged with driving efficiency up and costs down in their design and manufacturing processes. Viviota TTI software provides engineers with a collaborative, engineering-specific, end-to-end data management solution that accelerates processes, and eliminates non-productive data management tasks, freeing engineers to focus on higher value-add activities.
Viviota TTI software's combination of advanced engineering data management techniques, server acceleration technologies and analysis automation delivers unprecedented performance improvements for engineering teams. Viviota software has helped customers reduce engineering data analysis processing times by up to 90%.
"We are excited to see our customers gaining valuable insights from Viviota's software platform," said said Armando Valim, Director of Alliance Partner Network and Ecosystems at National Instruments. "We rely on our large ecosystem of NI Alliance Partners, such as Viviota, to provide engineers with complete solutions and help solve some of the toughest engineering challenges."
Viviota TTI integrates openly with industry standard engineering analysis tools, such as MATLAB, LabVIEW, Python, & DIAdem, and integrates easily with other enterprise systems for end-to-end automation. Engineers can quickly cross-correlate data and files from disparate resources using a powerful and flexible metadata schema. With more reliable data, analytics processes are faster and capital assets, such as test rigs and lab equipment, can be used more efficiently resulting in significant product development cost-savings for the company.
About Viviota, Inc.
Viviota software seamlessly manages engineering data and automates analysis—reducing costs and improving time-to-market for new vehicles, tools and devices. Our powerful software dramatically simplifies data management complexity and fully integrates into existing design, prototyping and test environments to release the full potential of sensor data, decrease time-to-insight and accelerate the pace of innovation. Located in Austin, Texas, Viviota is a member of the National Instruments Partner Alliance and HPE Partner Network. http://www.viviota.com
Product and company names listed are trademarks or trade names of their respective companies.
A National Instruments Alliance Partner is a business entity independent from National Instruments and has no agency, partnership, or joint-venture relationship with National Instruments.