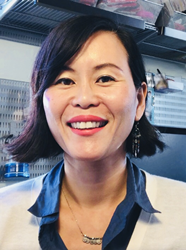 Samantha Pantazopoulos, Co-founder of Vizer App said "HOVE SGI elevated our impact report to the next level....they uncovered the deeper levels of impact behind each contribution. HOVE SGI equipped us with the tools we needed to deliver the strongest value to our community."
SAN DIEGO (PRWEB) August 29, 2019
With the support of HOVE Social Good Intelligence's (HOVE SGI) unique data crunching capacity and storytelling know-how, Vizer App was awarded $500,000 from Alliance Healthcare Foundation's Innovation Initiative Competition in July. HOVE SGI, a social good tech company, uses robust data analytics and organic storytelling to help people better understand the impact of socially conscious, purpose-driven companies.
This summer, Vizer App asked HOVE SGI to evaluate the positive long-term impact of its platform to decrease the number of people/children at risk for hunger in San Diego. Vizer App is a personal health app that rewards users who achieve their exercise goals with a nutritious meal donation to the San Diego Food bank. HOVE SGI showed the Vizer App social impact platform could result in a 15.5% increase of nutritious meals provided in San Diego based on an increase of 3.6 million individual meals provided in a year.
Samantha Pantazopoulos, Co-founder of Vizer App, said "HOVE SGI elevated our impact report to the next level. By analyzing environmental and situational factors, they uncovered the deeper levels of impact behind each contribution. HOVE SGI equipped us with the tools we needed to deliver the strongest value to our community."
Cindy J Lin, CEO and Founder of HOVE SGI, stated, "I am thrilled for Vizer App because their platform is the perfect tool for fitness conscious people everywhere to make a positive impact simply by doing what they love - working out. When every 10,000 steps provides a nutritious meal to someone in need then achieving your personal exercise goals for 50 days not only gives you a natural high, it also gives 50 people vital balanced, nutritious meals so they can avoid the hunger-chronic disease cycle happening in our communities."
Earlier this year, HOVE SGI calculated how Rewilder's upcycling of a single backpack made from airbag materials saved enough energy to charge your smartphone every night for 49 years. Rewilder is a fashionable zero-waste bag and backpack company and HOVE SGI helped them show the extraordinary health and environmental impact when a single upcycled backpack is made from airbag materials that would otherwise have been thrown into the Los Angeles landfill.
Watch out for HOVE SGI's upcoming big project which uses this same data analytics platform to launch a dynamic social good ranking and community website to help consumers easily find, review, and fall in love with the best companies and products that are making people and planet better.
HOVE SGI's mission is to help all purpose-driven companies tell their unique data impact stories.
Why is data and storytelling so important for a purpose-driven company?
A well-told data story illustrates the social impact of a business' give back or sustainable practices using robust, data-focused impact metrics to effectively communicate how positive change is being made. Data, by itself, does not clearly convey the significance of an action, effort or condition.
HOVE Social Good Intelligence is an innovative, mission-to-action lifestyle company working to shift people's behavior and build positive impacts. HOVE offers advanced data analytics for socially responsible companies and organizations to better define the social impact of their product or service.
About Cindy J Lin
Cindy is the founder and CEO of Hove Social Good. She previously worked at the US Environmental Protection Agency, for nearly 20 years, solving tough environmental and scientific problems encountered in international and national projects. Dr. Lin has a Masters in Environmental Chemistry and a Doctorate in Environmental Science and Engineering.
For more information about HOVE Social Good, please visit: https://hovedata.com/