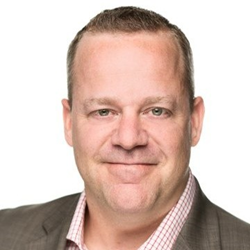 I look forward to bringing my experience to Vizibl and continue to establish them as the platform of choice to drive innovation for customers
LONDON (PRWEB) June 14, 2019
Vizibl, the leading platform for cloud-based innovation management, has appointed Matt Wagner as VP of Professional Services to enhance and support business growth.
Matt brings with him a wealth of software industry knowledge, with deep experience in implementation, customer support, program management and service delivery. Prior to joining Vizibl, he led the Professional Services team at SAP Fieldglass for over 11 years, during which time he was part of the Fieldglass team acquired by SAP for $1bn. During this period Matt also oversaw a 150x increase in revenue growth and was responsible for the scaling of the professional services team to support this.
"I'm thrilled to be joining Vizibl and to be part of the exciting growth trajectory that the business is on. Vizibl is a highly innovative platform with a laser focus on growth and it's great to become part of such a talented, collaborative and ambitious team. I look forward to bringing my experience to Vizibl and continue to establish them as the platform of choice to drive innovation for customers," Matt said of his new role.
CEO of Vizibl, Mark Perera added "It is a very exciting time for us at Vizibl and we are thrilled to welcome Matt to the team. With this hire, we are elevating and strengthening our team to exceed the needs of our current and future customers. Matt and the Fieldglass team were hugely successful, both in creating a new solution category and becoming the market leaders - we look forward to replicating this success with Vizibl."
The Professional Services team at Vizibl is made up of experienced customer account managers, strategists and implementation experts. The team handles the customer on-boarding process through to successful adoption and ongoing engagement, guiding customers on how to deliver elevated innovation strategy results.
"Adoption of technology systems is fundamental to project success and return on investment for organisations, and that is something that we need to be able to do at scale as we grow," Matt elaborated. "This role is a huge opportunity for me to bring my expertise to the business by tactically and strategically contributing to the future of Vizibl."
About Vizibl
Vizibl's cloud-based software solutions offer organisations the opportunity to build deeper and more valuable relationships with their partners and suppliers, in turn, helping businesses to drive innovation from the extended enterprise and execute on it at speed. Vizibl has been named as one of the 5 technology companies changing the way organisations do business in the "IDC Innovators Report 2019" along with the 2019 "Top 50 Tech Companies To Watch" list from SpendMatters.
Ends -
For further information please contact darragh(at)vizibl.co