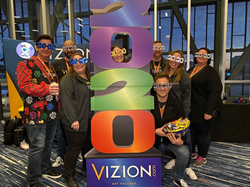 Today, we are happy to say that - 14 years later - we have secured the domain and are now 'Vizion.'
DALLAS (PRWEB) December 23, 2019
Vizion Interactive is proud to announce its move over to the newly acquired domain, Vizion.com.
The digital marketing agency has owned VizionInteractive.com since its inception back in 2005 but has always been on mission to acquire the simplified Vizion.com domain.
President & CEO Mark Jackson said, "When I founded Vizion Interactive in 2005, one of the first items on my to-do list was to secure a domain. I knew that I wanted to name the company Vizion, but – alas – the person who owned Vizion.com would not sell. Hence, 'Vizion Interactive.' Today, we are happy to say that - 14 years later - we have secured the domain and are now 'Vizion'."
The rebranding comes at a perfect time, coinciding with the New Year…"2020."
"20/20 Vision" = "20/20 Vizion.com." "It just happened that this acquisition came at this time. Perhaps it's fate that this happens as we celebrate the turning of our calendars to the year 2020," said Jackson.
To celebrate this re-branding, Vizion Interactive hosted people at the Dallas Digital Summit to free 2020 New Year's glasses and everything else that one would need to bring in the new year (except for the champagne).
"There's lots to celebrate at Vizion Interactive. We'd like to wish everyone a safe and enjoyable new year!"
About Vizion Interactive:
Vizion Interactive is a Google Premier Partner and leading digital marketing services agency, bringing the process and tools that you might expect from the largest agencies, the specialized skills and knowledge of a boutique, and the care and attention of an independent contractor. Vizion Interactive provides a wide array of digital marketing services to B2B, B2C, franchise, and ecommerce clients including holistic SEO, PPC Management/Optimization, Amazon Ads Management/Optimization, CRO and Enterprise Analytics and Reporting.
Contact
Kristien Matelski
888.484.9466
Kristien@Vizion.com