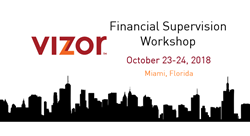 Sharing experiences and best practice when it comes to supervisory systems is crucial and we are delighted to host this event in Miami.
DUBLIN (PRWEB) September 24, 2018
Vizor Software the world leader in supervisory software for central banks and financial supervisors, today announced that the Company will hold a Financial Supervision Workshop.
Taking place on October 23rd and 24th, at the Atton Brickell Miami Hotel, the free-to-attend Workshop brings together financial supervisors from around the region to participate in interactive sessions that address the challenges, needs and requirements of today's financial regulator.
Open to all supervisors, the first day of this conference includes a keynote presentation on Risk-Based Supervision, workshops on future regulatory developments, product spotlights and customer perspectives where attendees will hear from Vizor Software customers. In this full day of interactive sessions, participants will learn how financial superviors from around the world are solving their toughest supervisory challenges. The day will conclude with a conference dinner.
The second day of the conference includes training and support workshops for current Vizor customers.
Financial Supervisors are facing many of the same challenges as they respond to regulatory changes and emerging risks. Sharing experiences and best practice when it comes to supervisory systems is crucial and we are delighted to host this event in Miami" commented Joanne Horgan, Chief Innovation Officer at Vizor.
At the conference, participants will have the opportunity to:

Meet with other financial supervisors who have already transformed their supervisory systems.
Ask questions about the benefits delivered from the new systems and supervisory processes recently introduced at regional supervisors
Learn about best practice from around the world when it comes to adoption and roll-out of supervisory systems
Participate in interactive demonstrations of the latest Vizor Software 2018 release and briefings on the 2019 roadmap.
For more information about the Vizor Software Supervisory Workshop including registration information, please visit the event website.
About Vizor
Vizor Software is the global leader in enterprise supervisory solutions for Financial Regulators. We help Financial Regulators protect and enhance the stability of the financial system. Vizor is trusted by Central Banks and Financial Regulators in more than 25 countries for the collection, validation and analysis of highly complex data from financial institutions. Vizor Software is an integrated data collection and supervisory system that is based on best-in-class supervisory models but flexible enough to deal with regulator specific needs. You can learn more at vizorsoftware.com or by following Vizor on Twitter, LinkedIn, Google+.