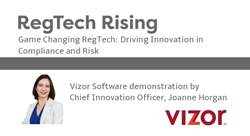 DUBLIN (PRWEB) November 30, 2018
Vizor, the world leader in supervisory software for financial regulators, today announced that Vizor's Chief Innovation Officer, Joanne Horgan, will demonstrate new approaches to regulatory reporting at the RegTech Rising conference taking place December 3rd to 5th, 2018 in London.
The demonstration will explore the power of APIs to reduce the costs to Financial Institutions of managing changes in regulatory reporting requirements. New APIs can provide automatic notification of data and rule changes. Machine readable data structures can be used surface changes in a firm-specific way. The use of advanced APIs has the potential to dramatically reduce the costs and risks of reporting changes.
Billed as the largest gathering of RegTech early adopters, RegTech Rising brings together cutting-edge RegTech providers, regulators from around world, investors, accelerators and senior management from leading financial institutions. 250+ attendees will have the opportunity to hear from demoing companies and expert speakers, all of whom are leading the way in RegTech innovation and adoption.
Demonstration: APIs that will shape the future of Regulatory Reporting
When: 9:05 AM, Wednesday, December 5th
Where: The Crystal, Royal Victoria Dock, London, United Kingdom.
About Joanne Horgan
Joanne Horgan has designed and delivered regulatory solutions for some of the world's top financial regulators, working with more than 20 central banks and financial regulators worldwide. Having joined Vizor in 2003, Horgan progressed through a variety of roles and was appointed to the board of directors in 2012. Between 2013 and 2017, she took on the role of chief operating officer and now leads the product management and innovation teams in Dublin.
About Vizor
Vizor Software is the global leader in enterprise supervisory solutions for Financial Regulators. We help Financial Regulators protect and enhance the stability of the financial system. Vizor is trusted by Central Banks and Financial Regulators in more than 25 countries for the collection, validation and analysis of highly complex data from financial institutions. You can learn more at vizorsoftware.com or by following Vizor on Twitter and LinkedIn.