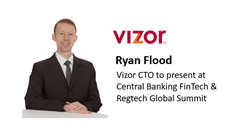 DUBLIN, Ireland (PRWEB) August 23, 2018
Vizor, the world leader in supervisory software for Financial Regulators and Central Banks, today announced that Vizor's Chief Technology Officer, Ryan Flood, will be a featured speaker at the Central Banking FinTech & RegTech Global Summit in Singapore on 6th September 2018.
Following the global financial crisis; the operational frameworks of financial markets, services and institutions have undergone a series of significant transformations - which has also necessitated a parallel reconceptualization of regulatory and supervisory regimes. A key force shaping these phenomena has been technological developments and its active adoption by different actors in the world of finance.
To this end, Central Banking Publications have designed this two-day conference to provide practitioners with the latest developments and good practice methods of utilising FinTech and RegTech tools such Big Data analytics, machine-learning and cloud computing to: automate data sharing and reporting, manage operational and compliance risks, as well as contextualise regulatory practices and requirements.
Ryan Flood will participate in stream two: RegTech Towards a Tech-Based Evolution of Regulation. His presentation "New Opportunities in Risk-based Supervision" reviews the key features of effective risk-based supervision in the SupTech era, how regulators can make the most of large quantities of data and what it takes to takes to collect and combine qualitative and quantitative data. The presentation concludes with Mr Flood presenting insights on how disruptive technology can aid cooperation between the regulator and the regulated.
About Ryan Flood
Ryan Flood joined Vizor in 2004, and over the course of the following 14 years, he has been instrumental in the design and development of the suite of software products. He has spent significant time on-site with leading financial supervisors across the world where he has taken a lead role in the design and implementation of solution landscapes. In his current role as CTO, Ryan is active in various regulatory communities and heads up the company's Product Design function ensuring Vizor products deliver the optimal user experience and value. Being a member of the Vizor innovation team Ryan, continuously innovates and also evaluates new technology tools and trends for the company and the community we serve. He holds a BSc in Mathematical Sciences and Computing from University of Limerick and an MSc in Computer Science from and University College Dublin.
About Vizor
Vizor Software is the global leader in enterprise supervisory solutions for Financial Regulators. We help Financial Regulators protect and enhance the stability of the financial system. Vizor is trusted by Central Banks and Financial Regulators in more than 25 countries for the collection, validation and analysis of highly complex data from financial institutions. Vizor Software is an integrated data collection and supervisory system that is based on best-in-class supervisory models but flexible enough to deal with regulator specific needs. You can learn more at vizorsoftware.com or by following Vizor on Twitter, LinkedIn, Google+.