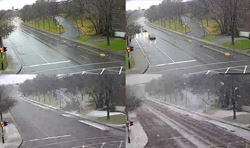 Through their roadside and on-vehicle cameras, Vizzion provides the complete picture of hazardous road conditions and how they affect drivers.
NORTH VANCOUVER, British Columbia (PRWEB) May 28, 2020
Vizzion, the world's largest traffic camera data aggregator, has released a report outlining how camera feeds are an ideal way of detecting and validating hazardous weather-related road conditions. Some of the most potentially dangerous factors for drivers are road weather phenomena such as wet and snowy roads, precipitation, fog, and flooding, yet it remains difficult to validate such dangerous conditions with conventional technology. Vehicle data collected from smart sensors on wipers, brakes, and fog lights can be inconsistent and difficult to confirm, and weather stations, while able to provide relatively accurate atmospheric information, may be kilometers away from the roadways in question and may not reflect local road conditions.
In many cases, the best way to identify hazardous weather conditions is through camera imagery. In the report, which can be read in full on Vizzion's website, Vizzion offers a simple, hyper-local "seeing is believing" solution through their roadside camera network and exclusive on-vehicle imagery, providing drivers, road incident editors, and automated systems with an unparalleled view of current weather conditions and allowing them access to the most up-to-date and accurate information about dangerous roadways. Through the seamless integration of their roadside cameras alongside their on-vehicle cameras, Vizzion is uniquely equipped to provide multiple perspectives of the road showing the complete picture of how drivers are impacted by fog, rain, snow, flooding, and other hazardous driving conditions.
In the report, Vizzion goes into detail as to how different types of cameras excel at validating different types of hazardous road weather. Roadside cameras, with an average view distance of around 520 meters of roadway, are highly effective in visualizing low visibility weather conditions such as fog. Paired with Vizzion's automated visibility detection analytics, their roadside imagery has proven to be one of the most effective sources of road fog data available. A recent manual review found 97% of Vizzion's fog detections were true positives.
Vizzion also found that on-vehicle cameras are particularly useful in observing driving conditions during rainfall. With their "driver's-eye view," the cameras allow viewers to judge whether the road looks safe to navigate. With the closer vantage point of the road surface through the vehicle's windshield, Vizzion contends that on-vehicle cameras prove useful in detecting both actual rainfall and the hazardous conditions created through accumulation of water on the road surface.
The report also mentions how snowy conditions are an example of when roadside and on-vehicle cameras work in tandem to provide complementary information. Accumulated snow on the road makes the surface slippery and can be hazardous if not cleared, and falling snow can decrease visibility for drivers. Vizzion has found that on-vehicle cameras are ideal for seeing if falling snow has covered the road and how it may impact traction, while roadside cameras can provide a look into the distance and show if visibility has been affected by the winter weather.
Many of Vizzion's findings are related to day-to-day weather events, but they also show that cameras are useful in tracking more severe natural phenomena such as floods and tropical storms. Roadside cameras provide visual evidence of flooding that can't be found from other sources such as vehicle GPS data. They note that cameras are often the first tool through which the effects of such extreme weather are noticed.
Vizzion's report concludes that in addition to providing an easily verifiable and simple to digest means of measuring vehicle traffic, cameras are equally effective in giving viewers a look at the weather conditions on a given stretch of road. With the flexibility to be integrated into driver-facing apps and infotainment platforms, processed via automated analysis, and used for ground truth studies against alternative road weather sources, Vizzion's imagery and visibility data is one of the most user-friendly, versatile, and accurate datasets for road surface conditions available. For more information, read the full report on Vizzion's website.