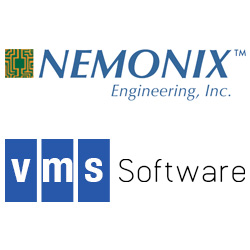 Customers will have a formidable team managing their OpenVMS hardware and software requirements. - Duane Harris, CEO VMS Software
Bolton, MA (PRWEB) March 25, 2015
Nemonix Engineering, Inc. (Nemonix) announced today that it has partnered with VMS Software, Inc. (VSI) to provide OpenVMS-compatible hardware products and services. Nemonix will support all hardware platforms that run OpenVMS, from the latest Itanium-based blades to legacy VAX and Alpha servers. Nemonix is particularly adept at bridging the hardware gap between legacy and modern hardware systems. Since its founding in 1979, by a former DEC engineer, Nemonix has kept an unwavering focus on the OpenVMS market.
"We are happy that VSI is launching the latest version of OpenVMS this spring. With OpenVMS' future assured by VSI, we are looking forward to producing new, advanced products and services for that platform. Nemonix' hardware solutions for VAX, Alpha, and now Integrity, will help customers both maximize the stability and performance of their existing, older hardware, and enhance the capabilities of modern, PCIe-based servers—all while running the latest versions of VSI's OpenVMS operating system," says Nemonix founder and CTO, Daniel Bumbarger.
With the launch of VSI's OpenVMS 8.4-1H1 "Bolton" release, Nemonix will ensure that its new VMS hardware, including advanced 10 and 40-gigabit PCIe controllers, are compatible with VSI's latest Bolton release. Following VSI's spring launch, Nemonix will offer packaged hardware services that will also feature best-of-class consulting services from our network of OpenVMS partners, including VSI's Professional Services group. The Nemonix hardware bundle combines these partner services with Nemonix' own expert ability to stabilize, repair, upgrade and maintain OpenVMS-based servers. The bundled services will be offered as a yearly subscription service.
"We are thrilled that Nemonix will be releasing advanced, OpenVMS 8.4-1H1-compatible controllers for HP's latest Integrity rack mounts and blades. We are also looking forward to teaming up with Nemonix to provide VSI's professional consulting services as part of Nemonix' packaged hardware support offering. Customers will have a formidable team managing their OpenVMS hardware and software requirements," said Duane Harris, CEO of VMS Software, Inc.
About Nemonix
Nemonix provides solutions for mission critical applications and enterprise systems around the globe, including Fortune 500 and government entities. Nemonix' solutions address the entire hardware landscape—from legacy to modern—providing customers with a unique service that addresses the needs of every server in the VAX/Alpha/Itanium family. Nemonix doesn't just build new parts for legacy servers, though customers rejoice at 20x better network throughput on VAX, or faster SCSI-based storage systems based on Nemonix solid state SCSI drives. Nemonix also builds bridges between modern and legacy OpenVMS-based servers. Modern machines get access to legacy protocols, and legacy machines get access to modern IT infrastructure—all through advanced Nemonix hardware. For larger enterprises, Nemonix provides bundled OpenVMS hardware/software services for proactive care and maintenance of all OpenVMS-based systems. Nemonix is headquartered in Bolton, MA. http://www.nemonix.com
For all inquiries please contact:
info(at)nemonix(dot)com
(508) 393-7700