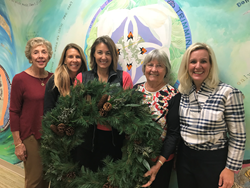 BASKING RIDGE, N.J. (PRWEB) October 13, 2017
The Visiting Nurse Association (VNA) of Somerset Hills is proud to host the second annual Holly Day Market. Featuring a collection of specialty vendors and unique items from across the nation, this holiday-themed event will raise funds and awareness for the myriad of personalized and quality-focused health and wellness services offered by the VNA. The boutique will be open Saturday, November 4 (10:00 a.m. – 5:00 p.m.) and Sunday, November 5 (10:00 a.m. – 4:00 p.m.) at the VNA of Somerset Hills, located at 200 Mt. Airy Road in Basking Ridge, NJ.
"After receiving an overwhelmingly enthusiastic response to last year's inaugural Holly Day Market, the VNA is pleased to welcome the community back to our headquarters and Adult Day Center for a second year of seasonal shopping to benefit the agency. This is a terrific opportunity to increase awareness of the vital healthcare services and resources that the VNA team provides to our patients, caregivers, partners, and to the communities we serve," said Dan Powell, President and CEO, VNA of Somerset Hills. "Funds raised will support programs including in-home nursing, rehabilitation therapies, adult day services, hospice and palliative care, caregiver support and community education."
"We are thrilled with the excitement community members have expressed for this event as demonstrated by over 1,000 people attending last year," stated Mona Gibson, Market Chairperson and VNA of Somerset Hills Trustee. "A 'can't miss event,' our boutique features exclusive vendors selling items such as custom shoes for women, fine jewelry, monogrammed gifts, beautiful clothing and accessories, table linens, sweets and treats, and much more. We welcome everyone to this special venue to help ensure the VNA of Somerset Hills, an invaluable treasure for our community, can continue providing services to all those in need.
Shops at the Holly Day Market include: A&J Accessories; Classic Home Christmas; Duende; Discovery Toys; Elyse Marie Botanicals; Estate Fine Linens; Everything is Rosey; JOTT; Just One Bite LLC; kk's; Larger Cross; Lei-Lei; Peaceable Hill Paperie; Ride + Reflect; Secret Garden Soap of Madison; Stanton Sweets; Susan's Jewelry; Sweet Meadow Studio; The Personalized Party; The Posh Shop; Three Wags; Thorn Hill; Tori Brown the Label; Ward Vintage; Windswept; and Zwikker and Zacher.
For additional information about the Holly Day Market:
Facebook: http://www.facebook.com/vnahollydaymarket
Instagram: @vnahollydaymarket
About VNA of Somerset Hills
The Visiting Nurse Association of Somerset Hills and its subsidiaries provide individuals and families with comprehensive, high quality, cost-effective home and community healthcare services, regardless of ability to pay, using partnerships where appropriate. The VNA is a charitable, tax-exempt home health agency and hospice certified by Medicare, accredited by the Community Health Accreditation Program and licensed by the New Jersey Department of Health and Senior Services. Credentials include recognition as a 2016 HomeCare Elite® Agency.
For more information about the organization:
Web: [http://www.visitingnurse.org
Facebook: http://www.facebook.com/VNAofsomersethills
Linkedin:http:// [ http://www.linkedin.com/company/vna-of-somerset-hills
Twitter:http:// https://twitter.com/VNASomHills