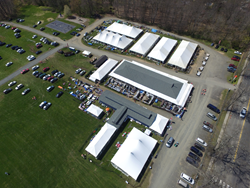 Basking Ridge, NJ (PRWEB) May 02, 2017
Bargain shoppers and garage sale fans will find 26 departments of merchandise at the VNA Spring Rummage Sale, which will be held on Friday, Saturday and Sunday, May 5, 6 and 7 at the Far Hills Fairgrounds, located at the intersection of US Route 202 and Peapack Road in Far Hills, New Jersey. The sale is open 9:30 a.m. until 3:30 p.m. on Friday and Saturday, and 12:30 p.m. to 3:30 p.m. on Sunday, rain or shine.
The VNA Rummage Sale has shopping opportunities for all ages and interests. The variety of high quality merchandise includes: women's, men's and children's clothing; fashion accessories; furniture; home goods, decorative and novelty items; pet supplies; artwork; toys and games; sporting goods; fine and costume jewelry; antiques; kitchenware; appliances; electronics; lighting fixtures; books; cameras; vintage items; musical instruments; vinyl records; video games; fabric, sewing accessories and yarn; holiday decorations; costumes; gardening supplies; outdoor furnishings; and more. Goods are meticulously sorted, checked for cleanliness and damage, and organized for display by more than 450 volunteers.
Proceeds help the VNA give all families equal access to the agency's full range of health and wellness services. Funds raised help ensure that all members of the community can benefit from important and innovative programs uncompensated by Medicare, Medicaid or private insurance.
What to Know:

Rain or shine.
Parking and admission are free. Handicap parking is available.
Credit cards (Mastercard and Visa), cash, and checks accepted in all departments. Photo identification may be required for credit cards and checks.
Short walking distance from the NJ Transit Far Hills Station.
Food is available for purchase, cash only.
Strollers and shopping carts are welcome on the grounds but, for safety reasons, not allowed inside any of the tents or departments.
For more information and to connect with the Rummage Sale:
On the web:http:// http://www.visitingnurse.org/news-and-events/rummage
Facebook: http://www.facebook.com/vnarummagesale
Instagram: @vnarummagesale
About VNA of Somerset Hills
The Visiting Nurse Association of Somerset Hills and its subsidiaries provide individuals and families with comprehensive, quality-focused, cost-effective home health, hospice, adult day, and community wellness services to all those in need. The VNA is a charitable, tax-exempt home health agency and hospice certified by Medicare, accredited by the Community Health Accreditation Program (CHAP) and licensed by the New Jersey Department of Health and Senior Services. For more information, visit http://www.visitingnurse.org