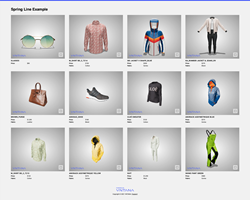 Chuck Mamiye, CEO of Mamiye Brothers, says of the solution,"2D images just were not cutting it, and our 3D design files were too big to share, which ended up taking minutes to load. VNTANA's Digital Showroom allows us to instantly share a 3D showroom on the web so our clients can see every detail in
LOS ANGELES (PRWEB) May 11, 2021
VNTANA, the industry leader in 3D Content Management Software (CMS), today announced the launch of VNTANA's new 3D Digital Showroom, which allows brands to instantly and easily create secure, shareable 3D digital showrooms with their existing designs. The 3D Digital Showroom looks like a traditional line sheet with interactive 3D versions of products.
By using 3D versions of products, brands can showcase products even before samples have been produced saving thousands of dollars and providing a differentiated experience for their customers.
The VNTANA platform has patented algorithms to ensure 3D models load fast with the highest quality images. The platform generates a sharable link and QR code to make sharing easy. Each file holds metadata, so all product information, such as fabric and style number is tied to the 3D file. A 3D digital showroom can be created in minutes instead of weeks by following a simple set of steps.
1. Upload existing 3D design files from Browzwear, Clo, Keyshot, Modo, Rhino or other design programs. VNTANA's algorithms automatically process and prepare them for the web, mobile and augmented reality viewing.
2. Select the desired designs for the digital showroom.
3. Publish and name the digital showroom to securely share with clients through password protected web links.
Mamiye Brothers, America's premier designer, distributor, manufacturer and marketer of apparel for women, children and infants, is currently using the software for B2B sales. Chuck Mamiye, CEO of Mamiye Brothers, says of the solution, "2D images just were not cutting it, and our 3D design files were too big to share, which ended up taking minutes to load. VNTANA's Digital Showroom allows us to instantly share a 3D showroom on the web so our clients can see every detail in 3D, just as if they were at a physical showroom."
"Covid forced brands to move to digital sales, but this resulted in either lackluster 2D presentations, or extremely expensive custom virtual showrooms. VNTANA wanted to make this simple and streamlined, so brands could instantly create 3D digital showrooms that scale with their business," said Ashley Crowder, CEO and Co-Founder of VNTANA.
ABOUT VNTANA
VNTANA brings products to life, from design to 3D shopping, across web, augmented and virtual reality platform—in minutes, rather than weeks. VNTANA's 3D Collaboration Platform unifies and automates 3D workflows giving teams a centralized place to optimize, share, review, and distribute 3D models to any stakeholder or end-point saving teams hours and accelerating 3D digital transformation. VNTANA is headquartered in Los Angeles, CA. Visit http://www.vntana.com or follow @VNTANAlive.
Media Contact
Renee Rossi
Renee@relativity.ventures