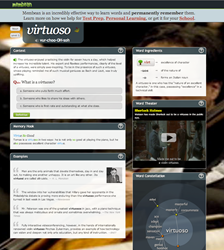 I've been teaching for over 30 years, and I've never heard such positive feedback from students as the feedback we're getting about Membean. Just sensational!
Beaverton, OR (PRWEB) June 18, 2014
Membean, Inc. (http://membean.com) will be exhibiting in booth #325 at the AP Annual Conference in Philadelphia, PA July 9 - 12, 2014. All AP English teachers, coordinators, counselors, administrators and instructional technologists are invited to stop by to view demos and learn about Membean's web-based, personalized, differentiated, multi-modal "durable" English vocabulary program for both high school and middle school.
English teachers around the world use the Membean program to help all their students, including those in their AP classes, develop a strong, relevant and vibrant vocabulary.
James Roddy, English teacher at Lindenwold High School, NJ, says, "I have and will recommend Membean to everyone I know. It is one of the best teaching softwares I've ever used, and the criteria I use for 'best' is that the students learn, retain the learning, and like and enjoy the process. It's valuable for AP, but not JUST for AP. All my classes have had positive results."
Building upon its first product, which aimed at helping students prepare for and excel on the vocabulary sections of both the Graduate Record Examinations (GRE) and the SAT (originally the Scholastic Aptitude Test), Membean expanded its offerings to include its Educator product for high school and middle school.
Ragav Satish, who founded Membean in 2009, adds, "We're a nimble company garnering global attention and reach. When some teachers first learned about our SAT program from their students, they contacted us and expressed interest in using Membean in the classroom. With their input, we rapidly developed and deployed our teacher dashboard and management capabilities, which have been well received. To date, Membean has spread primarily by teacher and user referrals."
Visitors to booth #325 can experience the teacher dashboard firsthand, can take advantage of the conference special offer, and will learn about how Membean is reinventing the teaching of English vocabulary.
Membean, Inc., a Beaverton, OR based education technology company, develops educational products that specialize in 'durable learning.' Launched in 2012, its Educator product is used in middle and high schools (grades 6-12) in 47 states in the USA, plus 10 countries across the world and counting. Membean's Personal and Test Prep products, respectively targeted to individuals and students preparing for the SAT and GRE, are widely used in more than 30 countries. Learn more, and hear directly from Membean users, by visiting: http://membean.com/educator/buzz.