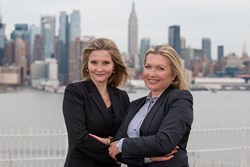 We take great pride in standing apart as attorneys who understand the importance of acting as both the legal counsel and advocates for our clients
New York, NY (PRWEB) December 10, 2013
Vogel Bach attorneys Heike Vogel and Victoria Bach are a powerhouse duo of legal advisors that have blended their unique backgrounds and "big law" experience to create a formidable practice, which began this Spring. As 2014 approaches, the partners of Vogel Bach are aggressively expanding their reach using their years of expertise and success rate in corporate transactions, bankruptcies & creditors' rights, family law, immigration and personal injury to aid clients who require a top-tier firm that works as advocates on their behalf.
Vogel and Bach each began their journey with humble beginnings in Germany and Russia. Their strong work ethics and friendship born of common experience and values lead to an enduring bond that first began in 1997 at Brooklyn Law School. Vogel had previously graduated cum laude at Columbia University where she earned a merit scholarship and her name on the Dean's List. She just co-authored a book, Women on Fire Volume 2, to be released this month. Bach graduated summa cum laude from the St. Petersburg University of Economics and Finance where she also earned a place on the Dean's List. Their education at Brooklyn Law School would serve as only the beginning of lengthy formal careers with major international law firms.
Vogel Bach created its niche after the partners began to formulate a different vision for the role of the lawyer – that of a legal advocate and counselor. In addition to corporate law, bankruptcy and litigation, Vogel Bach is well-versed in insurance and labor laws, as well as family and immigration laws. As a corporate attorney, Vogel has represented debtors, creditors, investors, indenture trustees, creditors' committees and acquirers of assets. Bach has covered numerous insurance cases where she defended owners, landlords, general contractors, and sub-contractors in accidents. Bach has also represented individuals in divorce and custody cases as well as immigration matters.
Vogel Bach represents domestic and international corporations acting as their local counsel in U.S. jurisdictions. It also represents corporate clients in bankruptcy and restructuring matters. The firm practices law on federal court circuits in New York, New Jersey, Eastern and Southern Districts of New York, as well U.S. Court of Appeals for the Second and Third Circuits.
"In order to solidify a successful practice of our own, we individually worked with major law firms where we took on complex legal matters while also broadening our understanding of various specialty laws. This dedication and experience has enabled us to create a comprehensive practice our clients can feel confident in trusting," said Vogel.
"We take great pride in standing apart as attorneys who understand the importance of acting as both the legal counsel and advocates for our clients. It reaffirms to them that we are providing due diligence and working completely on their behalf," said Bach.
As immigrants to the United States, Vogel Bach delivers a multinational perspective to its clients and their cases. Vogel and Bach are self-made professionals who are committed to providing exceptional counsel and service at affordable rates for large corporations, small businesses, and individuals who require a level of legal counsel and advocacy that is hard to match.
To reach Heike Vogel, Esq, or Victoria Bach, Esq, of Vogel Bach Law, visit http://www.vogelbachpc.com or call (212) 519-9854.
For Media Inquiries, Interviews or Speaking Engagements, Contact:
Yvette Morales
YM & Associates
PR | Marketing | Branding
California | New York
Phone: 949.244.9769 | 310.499.0906 Fax
Email: YMoralesY(at)YM-PR(dot)com
Twitter:@YMTheBevHillsPR
http://www.YM-PR.com