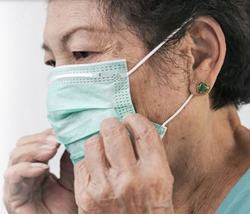 The ability to communicate quickly and effectively to our multiple senior living community sites has never been clearer than during this COVID-19 pandemic.
BOSTON (PRWEB) April 07, 2020
In response to the COVID-19 pandemic, VoiceFriend, LLC has today announced the release of their new Multi-Site Messaging capabilities for its VoiceFriend notification and communications solution. This enhanced feature helps managers of senior living communities, nursing communities and other care provider organizations communicate vital information more quickly and effectively to their seniors, patients, families or staff members across multiple community sites.
"Many of our customers manage multiple sites across wide regions or across the entire country," says Bruce Baron, CEO of VoiceFriend. "The COVID-19 epidemic has fueled their need to quickly communicate not only to their staff and their seniors, but also to families who aren't allowed to visit their loved ones in quarantine. While the new Multi-Site Messaging feature had been in development for some time, we accelerated our development effort and have made it available to our customers at no extra cost."
VoiceFriend's new Multi-Site Messaging feature is already making a difference. "The ability to communicate quickly and effectively to our multiple sites has never been clearer than during this current COVID-19 pandemic," says Chris Harper, Vice President, Communications for The Arbor Company. "The VoiceFriend automated communications solution made it so much easier and more effective. With just a few clicks, we were able to issue vital communications to our seniors, their families, and our staff at just one site or across our entire chain of communities. This freed up critical time to allow staff to focus their attention on seniors in need. It was truly a lifesaver for us."
This announcement today further extends VoiceFriend's commitment to deploy innovative voice technology to help senior care providers improve the effectiveness of their communications with patients, families and staff and boost wellness and quality of care.
About VoiceFriend, LLC
Founded in 2009, VoiceFriend, LLC developed the VoiceFriend Notification Solution as a simple yet powerful cloud-based notification solution that helps senior living, skilled nursing and other providers build better communities and operate more efficiently and effectively. VoiceFriend keeps seniors, staff and families informed of events, activities, appointments and other important information. Today, thousands of care providers rely on VoiceFriend to reduce staff costs, increase senior and family engagement, and boost satisfaction while positively impacting census.