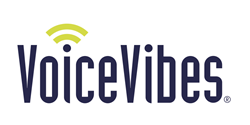 "Our AI-based coaching platform continues to raise self-awareness about how one's communication is likely to be perceived, allowing sales reps and other professionals to reach their full potential --now via Zoom's video and audio meeting platform."
BALTIMORE (PRWEB) August 20, 2019
VoiceVibes, Inc.., an automated coaching tool that empowers sales readiness and leadership development by helping people practice their messages and sound more confident, today announces the platform is available on the Zoom Video Communications, Inc. App Marketplace.
"We are thrilled to be teaming up with Zoom as professionals continue to embrace video communication tools and AI-based solutions like VoiceVibes to improve business performance," said Debra Cancro, Founder and CEO of VoiceVibes. "Our AI-based coaching platform continues to raise self-awareness about how one's communication is likely to be perceived, allowing sales reps and other professionals to reach their full potential --now via Zoom's video and audio meeting platform."
Managers often work with their teams to help them practice presentations or roleplay handling objections, but the amount of one on one interaction each rep can have with a coach is often limited due to time and cost constraints. A coaching platform brings awareness and coaching to each rep, enabling them to share recordings and receive feedback at the convenience of both parties. Objective, automated feedback from the coaching tool empowers the human coach to use their time on the most important aspects, ultimately bringing a bit of executive-level coaching to the masses.
"VoiceVibes brings a data-driven approach to coaching," said Karin Reed, Executive Communications Specialist and CEO of Speaker Dynamics. "The technology illuminates the underlying core issues based on accurate algorithms, enabling me to spend my time most effectively by coaching when and where I can add the maximum value for my clients. Following my coaching, they can continue to practice and receive feedback on their own time, which is essential to adopting new habits and putting their new behaviors into practice."
Nathan Parrott, Director of Sales at Poll Everywhere, explains how the automated tool is supporting sales training on his teams. "VoiceVibes enables me to ensure that my reps are practicing the right messages over and over again. As a result, I can be confident that they own those messages and are putting their best foot forward when speaking with potential clients. I can listen to their recordings and coach them on the key takeaways, while the automation coaches on the aspects that I'm not going to cover."
"We are pleased that Zoom users now have a convenient and objective way to receive speech coaching by leveraging AI. The VoiceVibes coaching platform is a great way for users to practice, empowering them to host webinars and meetings that are as polished-sounding as possible," said Thiya Ramalingam, Head of Platforms for Zoom.
For more information about VoiceVibes, visit http://www.myvoicevibes.com.
ABOUT VOICEVIBES, INC.
VoiceVibes is a Baltimore, MD startup using AI to help teams practice and improve their customer conversations in a scalable, convenient and objective way. The company's automated coaching platform helps managers ensure that their teams are saying the right things and making the best impressions. Used by top organizations for communications coaching, sales readiness, presentation skills practice, patient experience training and interviewing, VoiceVibes is the only platform with automated feedback to tell speakers how others are likely to perceive them - across 20 areas called "vibes." For more information, visit http://www.myvoicevibes.com.
Media Contact
Caitlin Wolf
caitlin@collins-company.com
410.935.2363