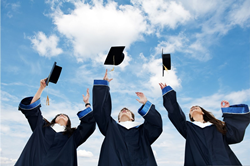 MANCHESTER, N.H. (PRWEB) May 27, 2021
Graduating from college is a noteworthy achievement for all students. Quirk Volkswagen located in Manchester, NH, offers a College Graduate Bonus Program for qualifying graduates. They can enjoy a $1,000 Contract Bonus when they purchase or lease a new Volkswagen vehicle from the dealership till June 30, 2021. The bonus is applied towards lease or purchase and cannot be redeemed for cash. This offer is not applicable on ModelYear21 ID.4 and Certified Pre-Owned vehicles. Drivers can view the online inventory at Quirk Volkswagen of Manchester and select from new Volkswagen vehicles like Passat, Tiguan, Jetta, and many more.
To receive the Contract Bonus, college graduates must qualify for the College Graduate Bonus Program. The applicant must be a U.S. citizen or a permanent resident who graduated from a U.S. or Canadian accredited college/university within the previous 24 months. Drivers who are interested in the College Graduate Program must be employed in a full-time permanent position. If they are not employed, they can also show a written commitment from a future employer.
The applicant will have to submit references, proof of income, official transcript or copy of degree, and contact information of their college/university, for the credit application. To receive credit approval, drivers do not have to show their credit history. However, they must have existing good credit and cannot have previous derogatory credit. For more information on the College Graduate Bonus Program, drivers can get in touch with the Quirk Volkswagen team. The Quirk Volkswagen showroom is located at 1100 S Willow St, Manchester, N.H. 03103. Members of the dealership staff are available by phone, 603-626-7000, to assist with any questions.