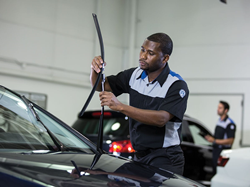 WOODBRIDGE, Va. (PRWEB) November 10, 2021
One of the most important yet neglected serviceable parts in a vehicle is the windshield wiper, especially for the vehicle owners that live and drive in an area that rarely has rain showers. The top priority for safety among drivers is the road-visibility. The wear and tear of a windshield wiper don't only come with usage, but it also becomes affected due to sudden temperature changes, for example, by leaving a vehicle under the sun.
Windshield Wiper Replacement Service is recommended at 10,000 miles or yearly for a smooth driving experience. At Karen Radley dealership, there is a limited-time offer to replace OEM windshield wipers for Volkswagen Customers can redeem a discount of $5.00.
This offer expires by Oct. 11 and can only be redeemed at the dealership's location. Customers must present the coupon either by means of print or on their phones at the time-of-service write-up. This coupon cannot be clubbed with other offers and is valid once per customer.
For more information about the offer, visit Karen Radley Volkswagen. The location of the dealership is at 14700, Jefferson Davis Highway, Woodbridge, VA 22191. The dealership can be reached out at 877-461-1230.