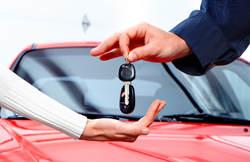 LOS ANGELES (PRWEB) July 27, 2020
Volkswagen of Downtown LA is now offering vehicle pick-up and drop-off service for automotive maintenance and repair needs. This newly implemented service is available from any location within 5 miles of the dealership. The service department is happy to offer this new service and encourages drivers in need within the Downtown LA area to take advantage of this opportunity.
Once a location is confirmed, a Volkswagen of Downtown LA service team member will retrieve the vehicle and bring it to the dealership. Once checked in, the necessary automotive maintenance and/or repairs will be performed, checked over and logged for the dealership before being returned to the location of the pick-up upon the completion of automotive service. A different location for vehicle drop-off can be selected, but it must also be within 5 miles of the Volkswagen of Downtown LA dealership.
Before the vehicle is returned, but after the maintenance procedures are completed, all internal high-touch points of a customer's vehicle will be wiped down with disinfectant to ensure the safe transfer from client to customer. Additionally, to ensure a no-contact experience with staff for convenience or safety, payment for automotive service can be facilitated completely through payment options online through the dealership website or over the phone by speaking to a Volkswagen of Downtown LA team member.
To schedule a service appointment with Volkswagen of Downtown LA using pick-up and drop-off vehicle delivery service, drivers in the Downtown Los Angeles area can fill out an online contact form at the dealership website or call the dealership service team at 213-863-9906 to speak with a staff member. This phone number can also be used to connect to the Volkswagen of Downtown LA sales and parts team for additional information and automotive assistance. The Volkswagen of Downtown LA dealership is located at 1900 S. Figueroa St., Los Angeles, California 90007.