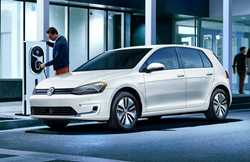 SANTA MONICA, Calif. (PRWEB) September 11, 2019
The demand for eco-friendly and efficient electric vehicles has significantly increased in recent years — and perfectly meeting this demand is the all-electric 2019 Volkswagen e-Golf, which is available at Volkswagen of Santa Monica. The 2019 e-Golf has a stylish and versatile hatchback design, an efficient electric powertrain and a multitude of advanced technologies.
The 2019 Volkswagen e-Golf shares much of the same styling characteristics as the rest of the Golf family, along with some unique design elements, such as LED headlights (SEL trim), blue accents and distinctive badges. Without the need for an exhaust system, the e-Golf does not have any tailpipes. Also, without any noisy engine components, the cabin of the e-Golf is very quiet.
The 2019 Volkswagen e-Golf provides high-level efficiency and emissions-free driving with its all-electric powertrain, which features a 100 kW synchronous permanent-magnet AC motor and a 35.8 kWh lithium-ion battery. It gets an estimated efficiency rating of 126 city/111 highway MPGe (miles per gallon of gasoline-equivalent) and has an estimated range of 125 miles.
Efficiency is aided by brake regeneration, in which energy from braking is channeled into the battery. The e-Golf also features three driving modes (Normal, Eco and Eco+) to control the vehicle's energy usage. Owners of the e-Golf can change the car at home or at one of the many charging stations throughout California. At a DC fast charging station, the e-Golf can reach an 80% charge within an hour.
The e-Golf provides responsive handling and precise steering, while its electric powertrain doles out 214 pound-feet of torque — resulting in very quick acceleration. Also, the e-Golf offers many driving assistance technologies for added convenience and safety. This includes Adaptive Cruise Control, Rear Traffic Alert, Blind Spot Monitor, and Forward Collision Warning with Autonomous Emergency Braking.
For more information about the e-Golf and other VW models at Volkswagen of Santa Monica, automotive shoppers can visit the dealership's website at http://www.volkswagensantamonica.com, call 424-295-7079 or visit in person at 2440 Santa Monica Boulevard in Santa Monica.