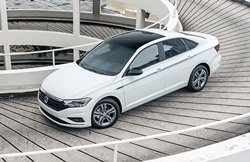 THOUSAND OAKS, Calif. (PRWEB) March 25, 2021
This March, Neftin Volkswagen began its Volkswagen Sign Then Drive Event. The event has a wide range of available lease specials and unique offers. Those looking for a new sedan can find several offers on the 2021 Volkswagen Jetta as well as the 2020 Volkswagen Passat model. Each offer expires on May 3, 2021. Offers are for qualified customers while taxes are not included in monthly payment figures.
As one of the new 2021 models available through the Sign Then Drive Event, the 2021 Volkswagen Jetta S can be had at two special lease prices. Those interested in a 39-month lease term can pay $136 per month with a down payment of $2,496. Otherwise, the same model can be leased for $199 per month in a similar lease length for no money down.
The 2020 Volkswagen Passat SE trim is also available at select lease specials. Customers can pay $189 per month on a 39-month lease with $1,995 down. However, a second deal offers a 39-month lease for $239 per month with zero money down.
Beyond the specific offers on select sedans above, Neftin Volkswagen also has more specials during the event. Those looking for various offers on crossovers and hatchbacks can find them available. Plus, the event includes a special offer for zero percent APR financing available for 60-months on all 2021 Volkswagen models in their inventory.
Customers interested in utilizing the special offers should contact Neftin Volkswagen for more information. An associate can be reached over the phone at 855 416-8556 or at their location at 3550 Auto Mall Drive in Thousand Oaks. More information on the deals can also be found online at https://www.neftinvw.com/.