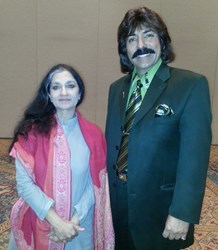 The National Health Forum is holding a thirteen city tour in the U.S.A. to help raise funds for a humanitarian project in Karachi, Pakistan
(PRWEB) August 27, 2013
The National Health Forum is holding a thirteen city tour in the U.S.A. to help raise funds for a humanitarian project in Karachi, Pakistan. The website, http://www.nhfus.org, has details of the available dinner events that have been and will be offered to the public through September 15 of this year. The events are being held all over the United States, from Florida to New York and from Washington D.C. to California. The dinners that are being held are featuring the legendary Pakistani dancer, Sheema Kirmani. When one is apprised of the reputation of Sheema it could be said that seeing her performance would be worth the price of the ticket alone. Sheema is one of Pakistan's last cultural dancers in Pakistan. While earning a Fine Art degree in London, Sheema took up political and feminist causes, in her words, ""I'm very motivated in the women's movement and in the peace movement. Dance is part of this whole thing with me." The event appears to be raising awareness on many levels as well as funds for the hospital.
Many parts of Asia and Africa have medical problems that are left untreated because the populations they inflict are too poor to receive medical treatment at standard health care facilities. Women's fistula is one of these predicaments that is suffered by millions of women in these countries. This condition could be substantially eradicated through education since it is more prevalent among young brides that give birth at ages that are also young. Fistula can cause stillbirths, kidney failure and a perpetual fecal odor that continually emanates from a woman's body. The condition is also treatable when services that reverse the disorder are able to be afforded or if they can be received free of cost.
Shawn Rae attended the Orlando event to lend his support to the National Health Forum fundraiser and to Mrs. Kirmani whom he has had the pleasure of meeting years earlier. The group is raising funds for a hospital located on the outskirts of Karachi, Pakistan. The facility offers free treatments for fistula patients as well as for other treatable diseases that are suffered by numerous indigents. The organization is already operating, although inadequately funded, as a free hospital as well as a training center. It should be of no surprise that these two humanitarians would meet again at an even that supports such a noble and charitable enterprise.
The Hospital, Koohi Goth, not only treats patients; it also is a training center for Nurses, Nurse Assistants, Paramedics, Midwives, and Anesthesia Technicians. They have received grants in the past from WHO (World Health Organization), the National Health Forum, Inc. (USA), Atai Hospital in Pakistan and from many individuals donors. The doctors at the facility work for very little, gratitude is generally the best that can be given in return or the occasional embroidered handkerchief. The staff at this hospital works purely out of altruistic concern for people. The hospital's work as a training facility brings financially destitute individuals into free learning programs so that they can in turn earn a living and help to support their families. This aid can also help end unfortunate cycles of poverty for many families. Ending the cycle of poverty can mean a better education for family members and the eventual, near eradication of many of the diseases suffered by these poor individuals.
Shawn Rae was born and raised in Pakistan until the age of 18 years and has lived in the United States for over three decades, over twenty-five of which as an American citizen. He has a B.S. in Public Administration with an emphasis in Political Science and Economics and an international Law Degree (L.L.B.). Shawn believes in ONENESS between all religions and people, working to find commonalities between religions to promote interfaith harmony. Shawn has represented the United States at various national and international events, and has been featured in the media on topics dealing with corporate giving, human rights abuses, better East/West understanding, and matters relating to world trade as well as technology-related issues affecting mankind.
Shawn Rae is a humanitarian, speaker and international recording artist who is committed to share his resources, time and effort in supporting causes that alleviate homelessness, hunger, disease and despair.
For more information: Shawn Rae Video Biography 2013: http://youtu.be/jBt9I3g362Qor