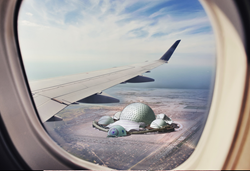 "The DomePlex seamlessly merges real and virtual worlds to provide the best of both"
LOS ANGELES (PRWEB) February 14, 2019
Vortex Immersion Media, a pioneer and leader in immersive experiential group entertainment based in Los Angeles, California, announced today that it has reached an agreement with The Solanna Group to develop its first multi-acre DomePlex in Phoenix, Arizona. The Phoenix DomePlex features a central "experiential" theater that will seat up to 2,500 guests and represents Vortex's first large-scale, permanent immersive 360-degree dome venue. The company plans to build additional multi-acre DomePlexes throughout the world with strategic partners.
Vortex's DomePlexes will feature multi-sensory experiences that act as "community VR" – full immersion and social interaction without the need for any headset or wearable. Those experiences will include live interactive elements and feature programmatic flexibility, thereby ensuring that DomePlex experiences will be constantly fresh, innovative and awe-inspiring. Producers of various genres can "plug and play" their content in Vortex domes and venues, facilitating rapid distribution of their immersive programming. Experiences within the DomePlex will also be live streamed and available on demand to engage a global audience outside the venue itself, thereby magnifying overall experiential impact.
"We aim to be this generation's Disney with this game-changing format," said CEO Mark Laisure, a seasoned technology and finance executive who previously drove major successes at Inktomi, Mesh Networks and Skycross, among others. "We are gratified by our new partnership with The Solanna Group to revolutionize venue-based positive group social entertainment and take out-of-home live experiences to an entirely new fully-immersive and extended level for all ages."
Vortex founder, President & CTO Ed Lantz added, "Our unique mix of immersive and interactive AR (augmented reality) technologies amplify the creative expression of artists to create powerful transformative experiences for large audiences. The DomePlex seamlessly merges real and virtual worlds to provide the best of both – vastly scalable online engagement anchored by next-generation experiential venues." Lantz is widely-recognized as a 360-degree immersive pioneer who, among other things, played a key role in bringing planetariums into the digital age.
The company also announced today that it has named media and technology veteran and futurist Peter Csathy of CREATV Media as its Chairman of the Board to guide Vortex's expansion. "We are thrilled to welcome Peter on our mission," said Laisure. "He shares our passion and vision for the possibilities of immersive entertainment. His cross-platform experience will be invaluable." "It is a privilege to work with Mark, Ed and the entire visionary team at Vortex," said Csathy. "Vortex brings together all of the best elements of content and tech and demonstrates the truly immersive and engaging possibilities and impact that flow from a fully-realized vision. Individuals crave deeper and more impactful, memorable experiences. Experiences that they can share together. This is the right time. Vortex is the right company. And Vortex's DomePlexes will be our new theme parks."
Other key members of the Vortex management team include head of development Kate McCallum (over 20 years of creative production at Universal Studios and Paramount Studios) and head of operations and strategy Michael Baron (Sony and previously founder of tech pioneers Teranex and Real Digital Media, both later acquired).
For the past decade Vortex has been the recognized leader in pop-up, temporary immersion domes for major brands, including the Microsoft-sponsored "Pharos" dome-fueled concert experience featuring Childish Gambino. With its world-class creative team, Vortex will itself develop immersive content to accompany live performances of leading musical artists and original theatrical productions. Additionally, through its production and distribution arm, the company will both develop and produce original content and license content from major studios, musical artists and other owners of compelling stories, characters, songs, and other intellectual property.
The company has been self-financed and has operated profitably to date and is now raising significant new financing to further accelerate its expanded vision.
About Vortex Immersion Media
Vortex Immersion Media (VIM) is the world's leading designer of live 360 immersive entertainment experiences that feature surround audio and video, spectacular visual effects and real-time interactivity. Over the past 10 years, VIM's creative design, production and engineering team, under the direction of entertainment technology pioneer, producer and engineer Ed Lantz, has produced hundreds of events in fixed and mobile 360 immersion domes up to 60 meters in diameter accommodating up to 5000 people. http://vortexdomes.com
For more information, please: connect(at)vortexdomes(dot)com