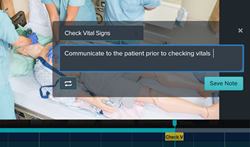 We're working hard to continually improve the usability and feature-set of Connect, and part of that is listening to users.
Lincoln, NE (PRWEB) November 11, 2016
Online and app-based video collaboration tool, Vosaic Connect, now includes annotations. Vosaic Connect's video analysis software can be used on an iPad or web browser, with no expensive or specialized A/V equipment. Video analysis already offers teachers, trainers, and educators the opportunity to create and provide clear feedback for learners, improving performance and strengthening soft skills. It provides the ability to train skills using video to mark moments for improvement.
Vosaic Connect is an invaluable tool for medical skills training and teacher training, providing better debriefs and self-reflection with the ability to review marked moments. When learners can review their actions and skills through video, they are given clear and quantitative direction in their quest to better understand how to improve.
Vosaic Connect already gave users the ability to markup moments for easy reference. With the addition of annotations, users can now layer in context and comments to marked-up moments. Users can even start a comment thread around a specific moment, providing a broader depth of feedback for video analysis, debriefs, or self-reflections. Notes are easily added to new or existing moments, making it possible for learners to capture crucial learning opportunities and receive specific feedback on how to improve.
"Annotations is a major feature that prospective Vosaic Connect users have been asking for, so we're really excited to introduce it," said Emir Plicanic, Vosaic product manager and user experience lead. "We're working hard to continually improve the usability and feature-set of Connect, and part of that is listening to users and making sure we're incorporating their feedback when it comes to make Connect an even better product."
Vosaic Connect provides access to video, real-time coding, and high-level analytics that can be accessed from anywhere. Collaboration is simplified when video analysis and insights are securely shared among teams to engage learners from any location. Content can be captured or reviewed in Vosaic Connect via password-protected web app or an iPad app allowing access to all projects that are in the queue anywhere, anytime.
Those interested in Vosaic Connect can also sign up for a 14-day free trial at vosaic.com. Vosaic Connect is available as a standalone subscription or in tandem with other Vosaic products. For more information, visit vosaic.com.
About Vosaic
Vosaic, formerly Studiocode Group, is a Lincoln, Nebraska-based video analysis company that helps researchers, educators, and learners uncover insights to improve human performance. Their video analysis software provides the ability to record, annotate, and analyze video with extreme precision to discover clear opportunities. More information about Vosaic can be found at vosaic.com.