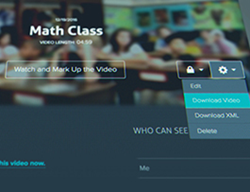 The ability to import Vosaic Connect video into Studiocode is a feature that links the two products and provides even more depth of analysis
Lincoln, NE (PRWEB) January 27, 2017
Online and app-based video software, Vosaic Connect has new features that allow users of Vosaic's flagship product, Studiocode, to analyze data from Vosaic Connect and adjust moment length. Users can now download their Vosaic Connect videos and export XML data of marked moments and import them into Studiocode for deeper analysis.
This new product feature connects the two platforms and expands the use of Vosaic Connect for researchers seeking more efficient ways to improve and performance and further research. Studiocode's robust video analysis tools can now leverage the flexibility and accessibility of Vosaic Connect's browser, iPad®, and iPhone® platforms.
"The ability to import Vosaic Connect video into Studiocode is a feature that links the two products. Many of our users utilize both platforms so this feature provides even more depth of analysis," said Emir Plicanic, product manager and UX lead.
In addition to the connection to Studiocode, Vosaic has added a toggle button feature, which allows precise marking of moments without lead and lag time. Users simply mark a box that will convert an existing button or create a new button. Toggle buttons allow users to set a particular moment's start and end time to ensure the length of the marked moment is precise for review in analysis, debrief, and self-reflection.
Vosaic Connect's video analysis software can be used on an iPad, iPhone, or web browser, with no expensive or specialized A/V equipment. It provides the ability to train skills using video to mark moments for improvement. By allowing video transferal to Studiocode, this new feature allows multiple viewers to examine marked moments and compare their annotations, leading to more profound analysis, debriefs, and self-reflections.
Those interested in Vosaic Connect can also sign up for a 14-day free trial at vosaic.com/products/vosaic-connect. Vosaic Connect is available as a standalone subscription or in tandem with other Vosaic products. For more information, visit vosaic.com.
##
About Vosaic
Vosaic, formerly Studiocode Group, is a Lincoln, Nebraska-based video analysis company that helps researchers, educators, and learners uncover insights to improve human performance. Their video analysis software provides the ability to record, annotate, and analyze video with extreme precision to discover clear opportunities. More information about Vosaic can be found at vosaic.com.