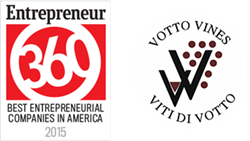 NEW YORK (PRWEB) January 09, 2023
Votto Vines Importing LLC ("Votto Vines") announces multiple partnerships with industry leaders that will contribute to the growth of the company.
Founded in 2009 and headquartered in Connecticut, Votto Vines is a dynamic, family-operated business that focuses on the importation, marketing, and distribution of fine wines produced by leading vineyards around the world. Additionally, Votto Vines has developed innovative private labels and proprietary brands as well.
As of December 31, 2022, Votto Vines is pleased to announce their joint venture with PSP Imports LLC. Votto Vines will combine their sales forces and portfolios via their boutique distribution and portfolio company, Global Wines, LLC, with PSP Imports' efforts to form "PSP Global Wines." This strategic partnership will be a Massachusetts-based importing and distribution business representing a diverse portfolio of wines and spirits from around the world, with a particular focus on Italy, France, Spain and Portugal.
"We are thrilled about this opportunity. PSP is a first-class organization and combining their local infrastructure with our portfolio and team will result in a much stronger business for everyone involved," comments CEO Michael Votto.
Further expanding the growth of the company, Votto Vines is thrilled to add Frank Battaglia and Marvin John (MJ) Towler to the team to foster new retail partnerships, nurture existing ones and develop relationships with distributors and key accounts throughout the United States. Battaglia and Towler joined the Votto Vines team, respectively, in January 2023 as vice president of sales for the midwest and west regions and in November 2022 as sales and marketing manager (tri-state).

Battaglia, a wine sector veteran, previously worked for industry titans Southern Wine & Spirits and Breakthru Beverage before becoming VP of Sales and Operations for a boutique wine importer in the midwest region. Along the way, he has earned numerous wine industry certifications including WSET Level 3, Certified Specialist of Wine (CSW) and Level 1 Certified Sommelier.
Towler, a Wine Enthusiast Future 40 Tastemaker & Innovator, has a diverse background in the wine industry, working in all facets of the business from retail, wholesale, auctions and wine consulting. He is also the executive creator, producer and host of the "Black Guy Wine Experience" podcast, where he is known to explain wine terms that everyone can understand in a light and humorous way.
"MJ is an entrepreneur by nature, just like many of the employees at Votto Vines, and we strongly believe that his extraordinary work ethic and passion for wine will be a great addition to the team," shares Votto. "One of our top goals for 2023 is to expand our sales force and develop new relationships. Given Frank's experience and strategic location, we feel this is an excellent partnership to grow the business and brand."
Additionally, Votto Vines is thrilled to join forces with Better Rhodes, a premium alcohol-free marketplace providing customers in the United States and Canada with a curated collection of over 300 products including alcohol-free beers, spirits, aperitifs and wines from around the world. The partnership, as of December 2022, formalizes CEO Mike Votto as an advisor for product selection and distribution, which will help oversee the company's expansion into the B2B space.
"We couldn't be more excited to announce the expansion of our leadership team," states Dan Stiller, CEO of Better Rhodes. "Mike's addition to our team demonstrates our commitment to this emerging category and focus on bringing the best in the segment to the market in new and innovative ways."
The partnership will not only help Better Rhodes raise awareness for the best quality selections available in the category but also help expand Votto Vines' portfolio in the growing market for non-alcoholic beverages.
"By the end of the year, we hope to have expanded upon our existing partnerships, opened new doors and avenues of business, fostered new connections & friendships in the wine & spirit world, and created greater brand awareness for our products & company," says Votto. "With our hard-working team of talented and intelligent individuals, 2023 will certainly be a better year for Votto Vines!"
About Votto Vines Importing
Votto Vines represents leading family-operated wine estates around the globe and its portfolio features some of the top-rated wines currently being produced in Italy, Spain, France, Portugal, New Zealand, Australia, Chile and Argentina, as well as craft spirits. Votto Vines has a national reach through a network of leading distributors such as Republic National Distributing Company, Breakthru Beverage and Young's Market, and a regional wholesale operation covering CT, NY, NJ and MA. In addition to being featured in Forbes, Inc. Magazine and Wine Enthusiast, Votto Vines has twice been named one of the "Best Entrepreneurial Companies in America" by Entrepreneur Magazine.
For more information about Votto Vines, please visit http://www.vottovines.com.