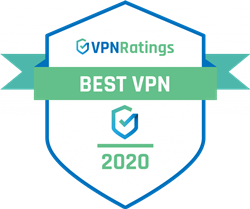 PALO ALTO, Calif. (PRWEB) November 02, 2020
VPNRatings.com, a leading resource for online security and safety awareness, has released its list of the best VPN (Virtual Private Network) services for 2020. Top providers were selected based on security features, server coverage, logging policy, and trial options. The guide identifies the top 20 VPN companies from across the web and shares detailed reviews for each service.
Experts at VPNRatings.com evaluated approximately 45 providers and conducted over 20 hours of research. Four key factors were considered for companies that qualified for the final list. Each provider was expected to have up-to-date security features and a vast network of servers in multiple countries. Additional requirements include a no-log policy, which prevents VPN services from recording activity and collecting personal data as well as a money-back guarantee or free trial offer.
"Cybercrime is a major threat, especially with so many people using the internet for work and personal business," says Josephine Miller, PR Manager of VPNRatings.com. "This year, data breaches exposed 4.1 billion records, so a trusted VPN service is a necessary tool for users to protect their identity, IP address, or location."
VPNRatings.com developed this guide to increase awareness about internet safety and offer solutions to help prevent identity theft and other cyber-attacks.
To access the complete list of top VPN services and reviews, please visit https://www.vpnratings.com/.
Top 20 VPN Services of 2020
-ExpressVPN
-CyberGhost
-Goose VPN
-Hotspot Shield VPN
-IPVanish
-Mozilla VPN
-Mullvad
-NordVPN
-Norton Secure
-Private Internet Access VPN
-PrivateVPN
-ProtonVPN
-PureVPN
-StrongVPN
-Surfshark
-TorGuard
-TunnelBear VPN
-VyprVPN
-Windscribe VPN
-WireGuard
ABOUT VPNRATINGS.COM
VPNRatings.com provides industry research and best practices to help educate consumers and enable secure internet usage. The company is led by a team of cybersecurity experts that evaluate and feature the best options for virtual private networks (VPN) services. The website also offers consumer guides to increase awareness about the most relevant crime, hacks, and data breaches. To learn more, visit https://www.vpnratings.com/.