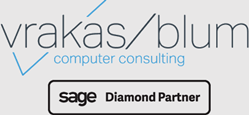 "2020 brought a lot of challenges, however our team maintained a positive attitude and kept pushing forward," says President Joe Jenders. "Once again, we have attained Diamond Partner status with Sage. I am honored by this accomplishment and am very proud of our team."
BROOKFIELD, Wis. (PRWEB) March 02, 2021
Vrakas/Blum Computer Consulting, Inc. (VBCC) has achieved Sage Diamond Partner Status for the second year in a row. This is the highest Partner Level recognized by Sage and a tremendous achievement awarded to partners that show great growth in their Sage business. VBCC has earned this recognition through hard work and dedication to its clients and their businesses.
"2020 brought a lot of challenges, however our team maintained a positive attitude and kept pushing forward," says President Joe Jenders. "Once again, we have attained Diamond Partner status with Sage. I am honored by this accomplishment and am very proud of our team."
VBCC is a leading Sage 100 Support provider and industry expert in the implementation of Sage Manufacturing software, Sage Operations Management (FKA JobOps). They have been implementing software and supporting their clients for over 30 years and look forward to many more years to come.
Nancy Teixeira, VP, NA Partner Strategy & Sales at Sage said, "Our business partners are key in achieving our mission to help customers succeed. The Diamond Partner status is the pinnacle of success for our business partners. They have demonstrated excellence and dedication to the Sage brand and focus on customer success, and we want to celebrate that."
About Vrakas/Blum Computer Consulting
Vrakas/Blum Computer Consulting, Inc. specializes in providing software and technology solutions for manufacturing and distribution companies. Vrakas/Blum Computer Consulting, Inc. is the technology practice of Vrakas S.C. and includes CPAs and consultants with industry and technology expertise. The computer consulting team is made up of 11 technology experts providing solutions to software products and services, training, Sage 100 and Sage 100 Manufacturing support and programming. Vrakas/Blum Computer Consulting, Inc. develops and implements practical, real-world solutions to your computer and information-system infrastructure.