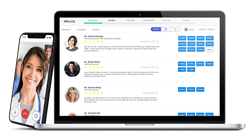 We believe it is a gamechanger for the telehealth patient experience, making telehealth so simple that really anyone can do it.
SAN JOSE, Calif. (PRWEB) August 27, 2020
VSee, the San Jose based telehealth system for NASA Space Station, Trinity, DaVita, and 2000+ has launched its new no download, web based HIPAA compliant video conference calls. The no download video conference calls make it possible to start a video call from a web browser to simplify the virtual visit experience for patients and providers. The web based video visit functionality is available on all VSee Clinic plans, including the Free VSee Clinic.
VSee CEO Milton Chen says "We are very excited to launch our no download, one click video calling function. We believe it is a gamechanger for the telehealth patient experience, making telehealth so simple that really anyone can do it. "
Telehealth video visits continue to be a key technology need in healthcare as the COVID-19 pandemic continues in the US and around the world. One of the technology issues faced by providers is how to provide an easy telehealth experience for patients, especially for the elderly senior population.
Another issue is how to create an efficient online patient flow from the virtual walk-in to registration to billing and copayment to AV check to video visit to follow-up scheduling. General video conference platforms are not designed for the complex care coordination and front desk workflows of the typical healthcare practice or organization. Many non-consult issues such as patients not showing up on time in the video meeting room or having AV issues when they get on are taking up additional physician and practice time. Healthcare organizations can spend anywhere from an additional 5 to 60 minutes per patient troubleshooting onboarding issues from patients not receiving the emailed video link, patients not able to download the software, patients unable to hear or unable to see, etc.
VSee Clinic with its new no download, web based video calling feature aims to solve both problems. VSee Clinic is designed to be configurable to fit each practice's workflows and to minimize the changes needed to do telehealth. It offers the ability to deliver high quality healthcare remotely in the following ways:

The patient or end-user site clinician can fill out customized intake forms.
Patients' vital signs can be added into intake forms.
VSee Clinic has the ability to add in remote family members, interpreters, and other care team members on demand.
Administrative and clinical staff can manage multiple virtual waiting rooms in a single dashboard and also coordinate with other providers.
One virtual clinic can have multiple providers take simultaneous on-demand visits.
Providers can share and annotate images, documents & websites as though face-to-face.
After the visit, patients can create an account to self-schedule follow-up visits or the end-user site clinician/a receptionist can assist to do so.
Send auto-confirmations and reminders to patients via email & SMS.
Let patients immediately review visit notes & attachments online.
The end-user site clinician or patient can send instant feedback with a post-visit survey.
Patients can be e-Prescribed medication for pick up at a local pharmacy.
The patient or end-user site clinician can securely message their questions to providers.
VSee offers three virtual clinic tiers:
Free VSee Clinic allows providers and practices to do telehealth at any time with a simple walk-in waiting room + patient queue for web based video visits.
Basic VSee Clinic provides additional workflow features including telemedicine consent, web chat, online scheduling, credit card payment, and SMS patient invite
Enterprise VSee Clinic allows for a completely configurable white-label solution tailored to the client's use case and workflow needs.
Visit vsee.com/clinic for more information about VSee Clinic features.
About VSee
VSee helps practices thrive in the New Normal with simple, scalable telehealth solutions. VSee is the telehealth company behind NASA Space Station, GE, Trinity, DaVita, Optum, McKesson, and 2000+. VSee is known for its simple design, robust technology, highly versatile solutions, and personalized service.