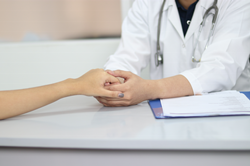 NEW YORK (PRWEB) April 10, 2019
VSee, a leading San Jose-based telehealth company, is partnering with Doctor.com, the leading web-wide listings management, reputation insights, universal online scheduling, and patient communications platform, to present unique new offerings for the healthcare industry. The partnership aims to create a seamless online patient journey, from search to a video telehealth visit, enabling providers to expand their practice reach.
Doctor.com's platform currently serves more than 200K providers and leverages the only partner network in the industry of 50+ integrations, including Google, Bing, Yelp, Healthgrades, Vitals, YP, and other major consumer health destinations.
VSee's telehealth platform offers:

Rich group chatting for front desk and provider communications
Virtual waiting room + patient-queuing and management
Patient self-scheduling
Online payments
API for custom integrations
Telehealth digital marketing
Dr. Milton Chen, VSee CEO, says, "Currently it's too much work to go from searching for a doctor to consulting with a doctor. VSee envisions a seamless experience where we can go directly from a Google or Bing search to live chatting with a doctor's front desk. From the search or live chat we can then book a telehealth appointment or do a walk-in video visit. VSee is excited about our partnership with Doctor.com to revolutionize and streamline the process of finding and seeing a doctor online."
According to a Salesforce report[1], 60% of millennials support the use of telehealth visits as a replacement for in-person visits. Doctor.com's 2018 CX Trends in Healthcare report found that nearly 70% of consumers will choose one provider over another because of a strong online presence and an Accenture report found that 84% of patients use online reviews to choose a doctor. As millennials and digital natives become the dominant consumer group, telehealth will continue to grow in demand, and an online presence will become increasingly important for provider practices.
VSee will be offering a Doctor.com promotion as part of its showcase at the American Telemedicine Association conference and expo[2], April 14–16 in New Orleans, booth #727.
About Doctor.com
Doctor.com is the only complete platform built to help healthcare organizations deliver a better customer experience at every step of the patient journey. The company's industry-leading technology seamlessly integrates provider data warehousing, web-wide listings management, reputation insights, universal online scheduling, and patient communications. All of these services are enhanced by Doctor.com's integrations with the most prominent healthcare directories, search engines, social media platforms, and EHR/PM systems. As a result, thousands of healthcare organizations, including more than 200 of the country's leading hospitals and health systems and over 30,000 private practices, have been empowered by the platform to enhance their digital presence and credibility, increase patient trust, and grow their business.
About VSee
VSee is the telehealth company behind NASA Space Station, Trinity, Ascension MDLIVE, and 1,200+ customers and the parent company of This American Doc medical group — an Airbnb-like company for physician staffing. VSee empowers health organizations and practitioners to achieve better patient care and improved efficiency through simple, scalable telehealth. Its modular platform provides flexibility for fast customization to a wide range of workflows, from ER diversion to e-ICU to on-call specialist consults to chronic care management. Learn more at vsee.com.
[1] https://www.medialogic.com/blog/healthcare-marketing/telemedicine-millennials-key-others-health/
[2] http://ata2019.org