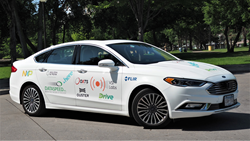 ST. LOUIS PARK, Minn. (PRWEB) September 10, 2019
Just one month after their groundbreaking Automated Drive West, autonomous vehicle (AV) research firm VSI Labs is hitting the road again for a Drive East. VSI will utilize their autonomous testing vehicle for the thousand-mile journey, this time driving cross-country from their headquarters in Minneapolis to Washington DC.
While the Drive West focused primarily on testing the combination of HERE Technologies' high definition maps with Real-Time Kinematics (RTK) ground-based positioning technology, the Drive East will utilize Trimble's precise point positioning (PPP) technology, Trimble RTX (RTX). RTX offers a versatile option for delivering GNSS corrections via satellite or cellular/IP globally. RTX is ideal for the automotive industry, which requires consistent accessibility to corrections for dynamic driving applications. Combined with high definition lane models in the HD Map, RTX enables the vehicle to know its exact, absolute position, resulting in accurate lane-keeping across a large and diverse geographic area.
"As the leading research company on active safety and automated driving, it's our job to test the various technologies available to the AV industry, and there's no better way to do that than driving cross-country," says Phil Magney, Founder & Principal of VSI Labs. "This journey isn't about proving the technology – but rather to understand the performance of these two complementary technologies when subjected to variable conditions."
The notion of HD map-based lane-keeping is a relatively new concept in the industry. Traditional lane-keeping technology relies on vision systems to maintain a vehicle's position, and most Level 2 automated solutions available today localize using cameras to detect roadway lane markers. This can be somewhat problematic considering these systems are totally dependent on the presence and visibility of lane markings. Furthermore, vision-based lane-keeping systems are subject to many boundary conditions that can take a vehicle off course or lead to dangerous maneuvers.
Using the lane model that is contained with the HERE HD map and localizing in real-time with Trimble RTX enables the VSI vehicle to perform accurate and reliable lane-keeping functions regardless of lane marking visibility.
"We're thrilled to support VSI's research with Trimble RTX and look forward to being a part of the Drive East," says Marcus McCarthy, Director of Autonomous Navigation Solutions at Trimble. "This is a great opportunity for us to further validate Trimble RTX's contribution to the safety and performance of autonomous and semi-autonomous driving solutions."
The drive kicks off later this month, with three of VSI's AV engineers departing on Friday, September 27. They'll drive two days, making their way through Chicago, IL, Indiana and Ohio, Pittsburgh, PA, and Maryland, before arriving in Washington DC. Those looking to follow along on the journey can track the vehicle's progress on VSI's website, or keep up with live updates on their social media channels.
About VSI Labs:
Established in 2014 by Phil Magney, VSI Labs is one of the industry's top advisors on AV technologies, supporting major automotive companies and suppliers worldwide. VSI's research and lab activities have fostered a comprehensive breakdown of the AV ecosystem through hands-on development of its own automated vehicle platform. VSI also conducts functional validation of critical enablers including sensors, domain controllers, and AV software development kits. Learn more about VSI Labs at https://vsi-labs.com/.