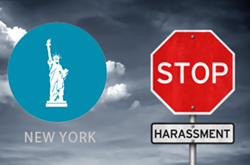 LOS ANGELES and NEW YORK (PRWEB) September 26, 2018
After winning best elearning award for its California harassment series, Vubiz is excited to announce the launch of its New York Harassment Prevention Program. Built in mobile-friendly HTML5 and compliant with both New York State and New York City new mandates, this comprehensive course features video, scenarios and New York compliant policies and complaint forms.
Vubiz President Jim Rapino said the new course is modern and innovative, "We've been leading in harassment training and with the new laws this fall we can easily help New York companies navigate through this transition period and stay compliant".
Vubiz offers online harassment training that is award-winning, compliant and interactive. Vubiz has been providing harassment training in California with their mandatory training since it became law. The new course is very specific to New York employers who are mandated to train every employee starting October 9, 2018.
Vubiz was named Best Compliance Elearning for the 6th year in a row by Elearning! Media Group which is based solely on voter ballots. The Best of Elearning! Awards recognize best-in-class solutions for elearning products and services.
"We're excited to acknowledge our team's commitment to creating the best compliance online training available at the best competitive price," said Rapino.
Vubiz has a deep catalog of award-winning compliance courses including Harassment Prevention, Affirmative Action, Workplace Violence, Ethics series, Banking compliance, Business Skills and Health & Safety courses.
Vubiz is an award-winning elearning company with a large, impressive online library of courses, custom content creation and distribution with a robust LMS. Vubiz's vision is to help organizations become more competitive through the use of world class Internet learning technologies. Vubiz has earned a superb reputation over the past decade offering outstanding value and unbeatable customer support.