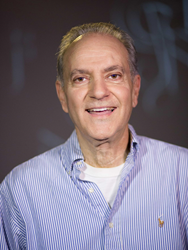 NEW YORK (PRWEB) February 13, 2019
Diligent in his strengths to break new major label and indie artists, Ted has helped music legends to the next level For three decades as an executive in various capacities in the music industry, which have given him a unique dual expertise. Learning the ropes of marketing, radio promotion, sales and distribution via the "traditional ways" of doing business, Ted has, as an independent consultant in all of these realms (as well as budgeting and overseeing publicity efforts), become a leading cutting-edge force in the "new world" of the digital download and streaming age.
Throughout his multi-faceted career, including over 20 years with Warner Bros. Records and Warner Distribution and many more as a consultant for Sony Music, EMI/Capitol, BMG Distribution, Sony Distribution, Universal Distribution and Warner Music Group, Joseph has contributed to and been associated with more than 100 gold and platinum status recordings for artists in a wide range of genres, from pop and urban to contemporary jazz and country.
Ted Joseph, as the new C.E.O of Vuuzle, will emerge the technology while setting up marketing and distribution, unleashing the secret technology and its 2-way streaming platform in tandem with its live streaming application early in 2019.
To date, no other OTT platform has this type of 2-way social media distribution. The Vuuzle network will allow its users to communicate with each other on the same platforms while streaming movies, live TV, gaming, all to be organized into their visual 3d social media software through its Clout 9 portal. This platform will be great for friend and family communication. Gamers will love this feature as you can be viewed globally by millions of people while showing off your talents.
These new features and cross-pollination of live streaming, television, and social media allow influencers to grow their following while the network creates new programming and content.
Vuuzle Media Corp. via live streaming television will also produce more channels allowing influencers to own Vuuzle television channels so they can grow their brand and their followers across all media platforms.
John Lamb, the president of Vuuzle Media Corp. said, "Ted Joseph has worked with some of the most talented artists in the world and is a perfect fit for Vuuzle entertainment."
Ted Joseph's artist credits include:
Robin Thicke • John Legend • Drake • Taylor Swift • Linkin Park • Jennifer Lopez • R Kelly • Justin Timberlake • Madonna • Rod Stewart • Trace Adkins • Kenny Chesney • Seal • Earth Wind & Fire • Ultra Violet Sound • Adele • Lady GaGa • Bruno Mars • The Talking Heads • Eric Clapton • Green Day • Al Jarreau • Kanye West • Quincy Jones • James Ingram • Bob James • Yellowjackets • Joe Sample • David Sanborn • Ice-T • Prince • Fourplay • The Time • Michael McDonald • Van Halen • Earl Klugh • George Duke • Sheila E • Usher • Cheap Trick • KD Lang • B-52's • David Bowie • The Smashing Pumpkins • Alanis Morissette • Ric Ocasek • Air Supply • Donald Fagen • ZZ Top • Pat Metheny • Bonnie Raitt • The Pretenders • Paul Simon • Tracksuit Wedding • Foundry and more. (http://www.tedjoseph.com)
Ted Joseph is still actively working with the big 3: Sony, Universal, and Warner Brothers breaking records for the newly signed artists as well as artists of the past. He also sits on the Board of Advisors for Apple Music using his talent and creativity.
The platform will be delivering unique content and live streaming events. The Vuuzle Fight Network, extreme sports, fashion shows, micro social news, award shows, music and more.
Vuuzle will monetize all its platforms from programmatic advertising through its ad exchange banking partners who will drive advertising, bumpers, and commercials 24 hours a day from top-tier advertisers globally.
Vuuzle will offer its advertisers 15- to 30-second length commercials on the Vuuzle OTT distribution platforms. The ads will be seen on all the Vuuzle networks and mobile devices via 2-way streaming platforms.
Vuuzle Media Corp. will also grow its top channel partners while offering its users a viewer experience that most networks charge premium prices for. Vuuzle.TV will also Include international channel packages as well as influencer channels and content which attracts millennials worldwide.
In the future, Vuuzle Media Corp. plans to integrate AR and VR technology into their software to continue to be innovators in the content delivery space.
Ted Joseph understands the entertainment and music industry. Due to his extensive experience and talent, he is still breaking records for newly signed artists as well as artists of the past. His experience is unprecedented while helping music evolve from cassette to CD, and now from download to live to stream.
Michael Gilburd was reelected Chairman of the Board of Directors continuing his efforts to take Vuuzle Media Corp. public in 2019, which will be a watershed year for Ted Joseph and the Vuuzle Team. The plans are to deliver streaming technology and content like never seen before.