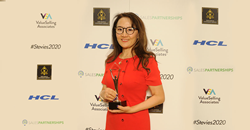 VXI Global Solutions, winner of 8 2020 Stevie Awards, delivers world-class customer care to leading consumer brands.
LOS ANGELES (PRWEB) July 22, 2020
VXI Global Solutions, a leader in customer experience management and business process outsourcing, today announced it has won 2 Gold Stevie® awards in the 2020 Asia-Pacific Stevie® Awards. More than 1,000 nominations from organizations in the 29-nation APAC region of all sizes and in every industry were evaluated in this year's competition.
Winners will be celebrated during a virtual event 22 September, 2020.
Demonstrating its global leadership in customer care, customer experience (CX) and contact-center services, VXI won the following Stevie awards:

Innovative Use of Technology in Customer Service (Gold)
Innovative Management in Business Product & Service Industries (Gold)
"In these challenging times, VXI's contact center applications have been recognized as best-in-class solutions for training both onsite and remote agents to deliver exceptional CX outcomes," said David Zhou, VXI Global Solutions' Co-Founder and Co-CEO. "The VXI management team ensures that our teams deliver exceptional results for all our clients, from leading Fortune 1000 businesses to fast-growing startups. We are honored to win two Gold Stevie Awards."
"Winning top honors in Customer Care Technology and Innovative Management is a testament to our product design, application development, and operations management teams that continually refine these applications to meet industry agnostic customer experience standards," said Prateek Hastir, VXI's Vice President of Presales, Solutions, Product Marketing and Analyst Relations. "Our Asia Pacific clients regard these platforms as a differentiator in service management so it's fitting that these were rated gold standard."
"We are delighted that the seventh edition of the Asia-Pacific Stevie Awards attracted so many impressive nominations," said Stevie Awards president Maggie Gallagher. "This year's winning nominations are testament to the resiliency and innovation of organizations in the region, many of which continue to succeed despite the challenges of the COVID-19 pandemic."
VXI's suite of technology tools is anchored by VXI Training Simulator™ and VXI Performance Pro 360™. Training Simulator (TSIM) is a purpose-built training platform used for new hires and tenured agents to get a scenario-based, hands-on experience with customer calls in a simulated environment. The greater proficiency level of new agents enables them to get swiftly up to speed, deliver, and meet desired KPIs resulting in improved CSAT scores. Training Simulator is utilized to support VXI clients across more than 20 locations in 5 countries and has been shown to reduce Average Handle Time (AHT) by up to 30 percent while increasing the Voice of the Customer (VOC) rating by 10 percent.
VXI Performance Pro 360 is an online coaching tool that consolidates agents' performance data into actionable information to help supervisors coach their teams. Supervisors are able to drill down on agents' performance in hitting each KPI and collaborate with training and quality departments. Results include a greater than 20 percent decrease in call transfers, a 6 percent increase in VOC rating and significant boosts in Agent Coaching Satisfaction ratings.
For a limited time, VXI offers a 90-day free trial of the VXI Training Simulator (TSIM). The platform has successfully trained hundreds of thousands of agents both within VXI and in Fortune 500 corporations. Learn how TSIM can support virtual training for remote customer-care agents.
Known for exceptional service delivery and "Passion for People" approach to customer care, the Los Angeles-based VXI has grown into a global leader in the business process management. Since 2018, VXI has won 14 Stevie Awards, including 6 Golds in 2020. It is the three-time winner of ICT awards for Best Contact Center and Best Employer in the Philippines (2017-2019).
About VXI Global Solutions
VXI is a customer-experience company, passionate about designing solutions that augment its clients' business processes to deliver higher revenue, greater profitability and happier customers. Founded in 1998, the company has 34,000 employees across 42 locations in the United States, Latin America, the Caribbean, Europe and Asia Pacific. VXI offers omnichannel customer care and growth services using technology and tools, including purpose-built productivity-enhancing applications that drive higher sales conversion, CSAT and related key metrics for its clients. Known for its transformation mindset, the company's IT arm, Symbio, offers digital and business transformation solutions that are seeded in its innovation philosophy of co-creation and seamless augmentation. For more information, visit http://www.vxi.com.
About the Stevie Awards
Stevie Awards are conferred in eight programs: the Asia-Pacific Stevie Awards, the German Stevie Awards, the Middle East Stevie Awards, the American Business Awards®, the International Business Awards®, the Stevie Awards for Great Employers, the Stevie Awards for Women in Business, and the Stevie Awards for Sales & Customer Service. Stevie Awards competitions receive more than 12,000 entries each year from organizations in more than 70 nations. Honoring organizations of all types and sizes and the people behind them, the Stevies recognize outstanding performances in the workplace worldwide. Learn more about the Stevie Awards at http://www.StevieAwards.com.